Chick-fil-A is coming to Toronto
The successful but controversial U.S. QSR plans to open 15 locations in the GTA over the next five years.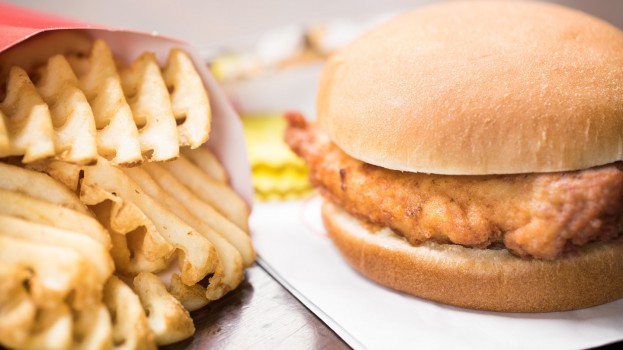 Chick-fil-A, the U.S. QSR chain known for both its iconic marketing campaigns and controversy generated by its support of anti-gay causes, has announced its plan to expand to Canada.
The company is currently recruiting operators for locations in the Greater Toronto Area. It plans to open the first Canadian location in 2019, with a goal of having 15 stores in the area over the next five years.
Though the release said the new stores would be the company's first franchisee-owned locations outside of the U.S., Chick-fil-A opened a location in the Calgary International Airport in 2014.
The company says it will source its chicken from Canadian farmers and its products are made without fillers, hormones, or additives, while its chicken is cooked in peanut oil, which is free of trans fat and cholesterol.
Chick-fil-A has more than 2,200 locations across the U.S. and reported $9 billion USD in revenue in 2017, but its business success south of the border has been matched by the controversy it's generated in recent years.
Founded by devout Southern Baptist S. Truett Cathy in 1946 and currently run by his family, the company's corporate values have been famously molded by his religious beliefs. That has resulted in things like the chain not being open on Sundays, but also a controversy that came to light in 2012 around charitable donations to groups that opposed gay marriage and promoted so-called "conversion therapy." At the time of the controversy, Dan T. Cathy – then president and chief operating officer, now chairman and CEO – also made comments in the media claiming that people were "inviting God's judgement" by trying to redefine marriage.
The company has since made efforts to distance itself from the controversy, claiming to have cut its donations to organizations that promote discrimination and not supporting any particular "political or social agenda."
"Toronto is a great city – with diverse and caring people and a vibrant restaurant culture with a deep talent pool," said Tim Tassopoulos, president and chief operating officer of Chick-fil-A, in a press release announcing the Toronto expansion. "These strengths align perfectly with Chick-fil-A's focus on community giving, delivering a premium product, and working with passionate people that can grow with our company – making Toronto the perfect choice for international expansion."
In an interview with The Globe & Mail, Tassopoulos said regarding the controversy that the restaurant has "made the commitment, and always has, to serve everyone. We're part of the local community, and we reach out to every aspect of the community."
On the marketing front, Chick-fil-A is best known south of the border for its long-running campaign featuring cows trying to save their own hides by encouraging people to "eat mor chikin."
Chick-fil-A is also entering a Canadian marketplace where competitors like KFC are well-established, while relative newcomers continue to expand – Popeyes plans to open its 150th Canadian location this year, while Church's Chicken signed a deal last year to bring its number of Toronto-area locations to 25 by 2025.