Namaste launches AI-powered cannabis app
Uppy Cannabis Journal helps medical users track their symptoms and get recommendations for new strains.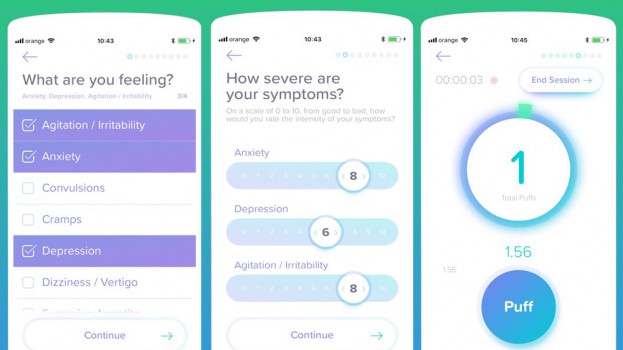 Cannabis ecommerce company Namaste has a new app that uses artificial intelligence to help medical users keep track of their symptoms and find new strains that could possibly improve their treatment.
Uppy Cannabis Journal is a mobile app that allows medical cannabis users to track the effects of different cannabis strains on whatever symptoms they may be looking to address. Users can input symptoms and their severity into the app, track sessions using cannabis and record the effect of the strain on those symptoms. In addition to simply tracking strains and their effect, the AI behind the app will also be able to make recommendations for different strains that might be helpful for a user's symptoms, based on data it has compiled from a database of other users.
Namaste revealed Uppy last week in an announcement stating that it had submitted applications for the app in both Google Play and Apple's App Store. Uppy is now available on Android through Google Play, though it has yet to appear in the App Store. The company says that when the app is approved by both app stores, it will begin a marketing campaign to drive users from its other sites and online properties to the app.
Namaste is a cannabis service provider, primarily in the ecommerce space, where it operates over 30 websites. It is currently primarily working in the area of hardware and accessories, though it is awaiting approval to sell medical cannabis itself in the Canadian market.
In May, Namaste acquired Findify, an AI-powered platform that personalized ecommerce experiences. In announcing the acquisition, the company said Findify's technology would be used to increase conversion rates, average order value, as well as for retention and referrals.
Namaste has used Findify's tech to power Uppy, feeding it over two million pieces of data to base its algorithm on. From here, the machine learning platform will continue to evolve and adapt as it receives more information from users to offer more accurate and relevant information and "better understand the effects of cannabis strains in relation to treatment of many symptoms."