Check it Out: SPCA Montreal toys with the word 'animal'
An OOH campaign deconstructs the word to give it new meaning in French.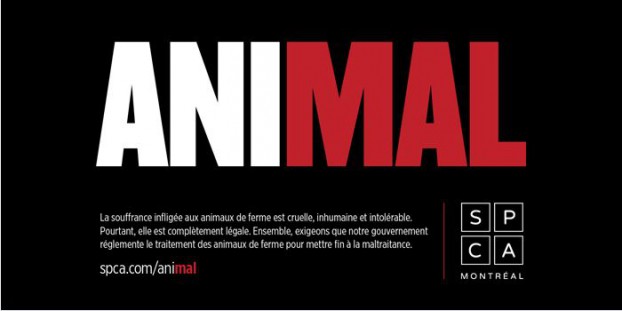 The SPCA of Montreal is trying to raise awareness of the suffering endured by farm animals in Quebec.
It recently launched an out-of-home campaign that deconstructs the word "animal" in French, emphasizing the final syllable of the word: "mal" translates to "wrong," or "harm" in English, depending on the context.
The creative, appearing as wild postings and other signage throughout the city, was developed by Montreal's Upperkut agency.
Some of the posters, such as one showing a caged pig and another illustration a a tool apparently used on farm animals, are more explicit, while another simply has the word "animal" on it in different colours, drawing attention to "mal" through the use of colour.
A recent survey showed that 72% of Quebecers believe candidates in the next provincial election should address animal welfare issues, which has prompted the SPCA to demand more political action for government representatives.