University of Toronto launches new innovation hub
A new 250,000 sq. ft. centre will house the school's startup and corporate partnership activities.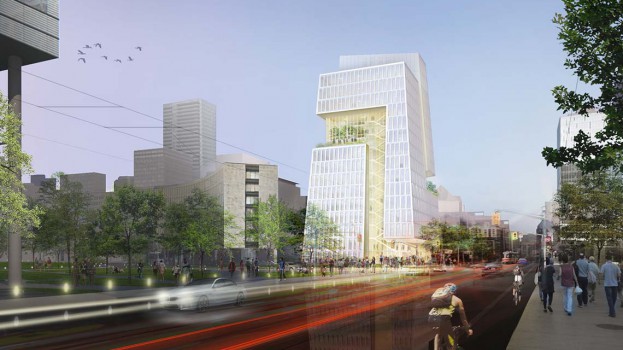 The University of Toronto has unveiled its plans for a new innovation centre in the city's downtown to house its growing number of startups and corporate partners.
The new innovation centre will be on the corner of University Ave. and College St. in Toronto, right across the street from the MaRS Discovery District. The main purpose of the new complex is to increase its capacity for a range of innovation activities: it will house the U of T Entrepreneurship program, the Vector Institute for Artificial Intelligence and the Innovations & Partnerships Office where the university works on research projects with a range of government and corporate partners.
The first phase of the project includes a new 14-storey tower that will replace the western portion of the existing Banting and Best complex. Half of the 250,000 sq. ft. space will be devoted to startup companies and established corporate partners. It's expected to be completed in 2021.
"There is huge support and need for this type of building – it's the right space in the right location," said Scott Mabury, U of T's VP of operations, in a blog post on the university's website. He added that the new centre will amplify the innovation and commercialization activities not just at U of T, but also at MaRS and the other research institutes, incubators and accelerators in the city.  "Our aspiration is to help build a new cornerstone for the Canadian economy."
Toronto has become a hub for technology and innovation in North America, and the university has become increasingly involved in projects and innovation hubs launched by a range of companies – especially when it comes to artificial intelligence, an area of expertise for its computer science department. In recent months, the university and its researchers have gotten involved with companies including LG, Nvidia and TD, and currently runs ONRamp, a co-working space it founded with RBC. Outside of official partnerships, proximity to U of T researchers has also been cited as a factor in the decision by several companies to locate research hubs in Toronto, such as Samsung. And of course, U of T is also part of The Vector Institute, an AI research hub that is backed by investments from dozens of companies and will be housed in the new innovation centre.