Zulu Alpha Kilo helps launch One Show call for entries
The agency created a teaser campaign for The One Club, which has announced a number of category changes this year.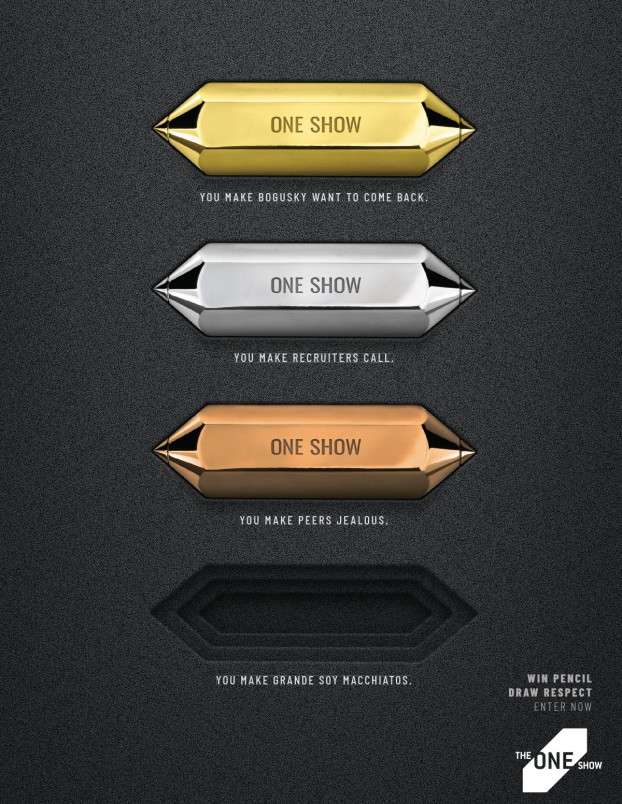 The One Club for Creativity has announced a call for entries for the 2019 One Show with the help of Toronto agency Zulu Alpha Kilo.
The creative shop was selected to develop the global campaign, which kicks off today with a pair of teaser videos and posters that will be followed by a series of online videos in the fall.
The campaign's message cuts to the chase: for creatives, winning a pencil is a career-changing moment. The award comes with greater respect from your boss, better briefs and, most importantly, respect. That message is embedded into the tagline, "Win Pencil, Draw Respect."
One of two animated teaser videos created by Zulu Alpha Kilo is called "Not Hiring." It starts with the words "We're Not Hiring Anyone." But that message takes a turn when two Gold Pencils bearing the words "But You" are inserted in the original sentence. The second video, dubbed "Recruiters," begins with "Recruiters Stop Calling," until a Gold Pencil with the word "Won't" inserts itself into the picture.
A series of posters make the same suggestion, drawing humorous comparisons between life before and after having won a Pencil: you're either making Alex Bogusky "want to come back" or making grande soy macchiatos; you're either featured in the New York Times or in your mom's Facebook post.
"We've heard many stories from creatives over the years about how winning a One Show Pencil propelled their career to the next level," said Kevin Swanepoel, CEO of The One Club for Creativity, in a release. "So while this campaign from Zulu Alpha Kilo is tongue-in-cheek, it hits home because the message rings true."
With the launch of the campaign, The One Show officially began accepting entries and will be announcing One Show juries "shortly," according to a press release. The first entry deadline has been set for Sept. 30, a second for Nov. 30, with a final deadline of Jan. 31, 2019.
The organization has also announced a number of category changes this year.
New disciplines include Creative Effectiveness, Creative Use of Data, Digital Craft (formerly UX/UI, now including all craft categories in Interactive and Mobile), Experiential & Immersive (which replaces Responsive Environments and includes all immersive work previously in the Cross-Platform category), Integrated (previously Cross-Platform), Interactive & Online (previously only Interactive) and Radio & Audio (previously only Radio). Finally, Mobile First has been split into two separate categories: one for videos over 15 seconds in length and one for video 15 seconds long and under.
For the first time, The One Show is also accepting submissions for the Green Pencil recognizing excellence in environmentally-conscious advertising and design. In the past, Green Pencil entries were based on nominations.
This year marks the second time the One Show will have a standalone discipline for Health, Wellness & Pharmaceutical and a One Show Mobile-First Video Advertising category sponsored by Facebook, recognizing video that is specifically created for use on mobile devices.