Holland Bloorview gives kids with disabilities control of their image
The hospital had its patients play the role of art director in a new stigma-fighting campaign.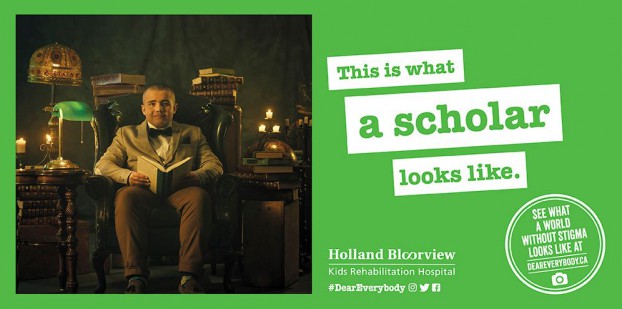 When representing people with disabilities, even the most well-intentioned advertising campaign can go astray and perpetuate the very stigma it looks to oppose. Toronto's Holland Bloorview Kids Rehabilitation Hospital ensured that wouldn't be the case by giving the children it supports control of its ongoing "Dear Everybody" campaign.
When the campaign's second iteration launched on Aug. 27, the feeling generated was not one of sympathy or one of admiration for those simply living their lives with disability, as one might find in "inspiration porn" marketing. Rather, audiences were made to see how people with disabilities view themselves – as scholars, inventors, athletes, storytellers and proud moms.
Last year, those featured in the ads played the role of copywriters, helping draft a "Dear Everybody" open letter detailing their experiences with stigma. This year, they took on the role of art directors.
A series of posters was created showing the subjects alongside the word best describing how they view themselves. For example, there's Jadine, the "storyteller" who dreams of becoming an author and motivational speaker and lives with cerebral palsy. And then there's Liam, the "scholar" and history buff who aspires to be a history teacher; he lives with autism spectrum disorder.
"It's about re-framing the context in which we see these people," says Matt Hassell, chief creative officer at KBS Canada, which led the campaign pro bono. "It's really bare-bones, basic messaging to hammer home the point around the context of the images."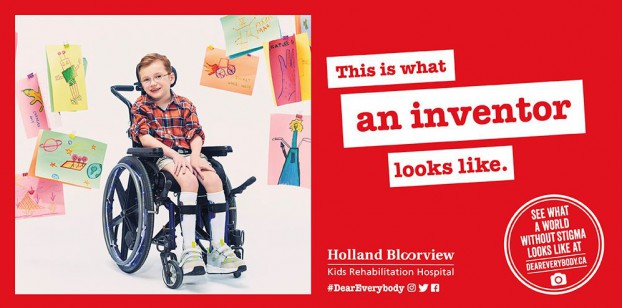 The most important thing was ensuring that "the children are not objects in the campaign; they're actually creators of the campaign," adds Sandra Hawken, president and CEO at Holland Bloorview Kids Rehabilitation Hospital Foundation.
"By putting kids in control of their images and the words that portray them, not only was it the truest representation of what they experience in terms of disabilities, but it was us taking a stand against that style of advertising."
The decision to involve the children in the campaign development goes back to the hospital's mandate of always consulting its patients and their families, adds Hawken.
While working alongside child art directors was "rewarding" in its own right, it wasn't necessarily always easy having a "third creative partner" at the table, says Hassell. Like most creatives, those who helped shape this campaign had "pretty strong opinions" at times. But that made the creative development challenging in all the right ways, and it led to work that's fundamentally more truthful, he says.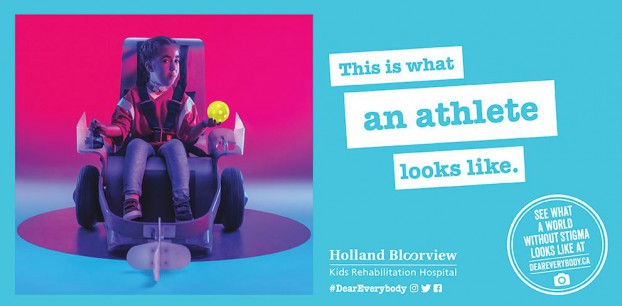 "Dear Everybody" was launched with a pop-up at Toronto's Eaton Centre that featured blow-ups of the posters and involved having volunteers engage with passersby on the issue.
Hawken says it was important to engage with parents and teachers as children prepare to head back to school, although the effort is year-long and is meant to be integrated into the organization's ongoing fundraising efforts.
"Dear Everybody" is rolling out across TV, radio, print, digital and out-of-home. Aber Group oversaw an online ad buy and additional media was donated by partners that include Rogers Media, Boom 97.3, the Toronto Eaton Centre, Toronto Life, Adapt Media, NewAd, Branded Cities and IMA Outdoor. SpPr led on public relations.