Alzheimer Society of Ontario appeals to monthly donors
The organization's first TV campaign tackles some of the myths around the disease and aims to acquire long-time support.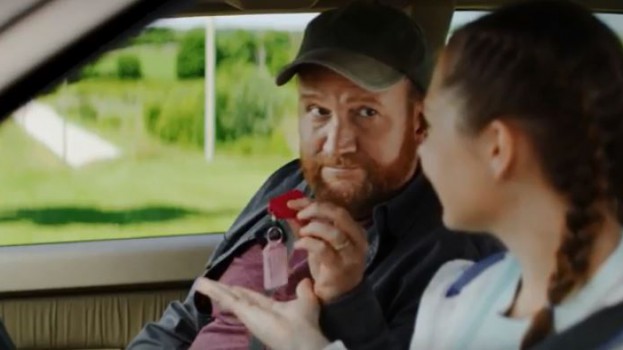 The Alzheimer Society of Ontario is rolling out television commercials for the first time as part of an eight-week effort to acquire new monthly donors.

The campaign launched with a 60-second spot on Corus Entertainment stations in Ontario and may eventually be expanded nationally. The effort is being led by Stephen Thomas, an agency specializing in not-for-profit clients, and Mission Productions & Media, which, in addition to handling the broadcast media buy, worked with Stephen Thomas on the creative strategy, development and production of the spots.

The main spot (which comes in a longer two-minute version and 30-second cut downs for social), begins with a father teaching his teenage daughter how to drive, encouraging her to "just go." It then fast-forwards to the future, where the daughter has taken her father to an Alzheimer's care centre. He passes away in the hospital bed, his daughter at his side offering comfort and letting him know it's okay to "just go."

The ads direct viewers to a landing page on CureALZnow.ca, where they can learn more about the disease. The site includes a video featuring Alzheimer's researcher Dr. Carmela Tartaglia, who explains a cure is only a few years away.

During the development phase, Cathy Barrick, CEO of the Alzheimer Society of Ontario, says the organization had its sights on being "bold." Historically, the organization has been "pretty beige" in its appeal for support, she says.

According to Barrick, the work's primary mission is to drive acquisition of monthly donors, but it also seeks to raise awareness around some of the lesser-known aspects of the disease: it's not only an "old person's" disease, for example – the man in the spot appears to be middle-aged – it can be fatal, and it causes significant stress on caregivers. She says not many Canadians are aware of how close researchers have come to finding a cure.

The decision to invest in placing ads on TV was a result of ROI planning that showed it could lead to more monthly donors, which have a higher lifetime value, remain more easily engaged with the cause and are more open to other forms of giving, such as major one-time gifts, says Barrick. "If you're going to pay large amounts of money to acquire a donor, you want them to stick around a long time."

Across the category, research suggests that it's harder to convert one-time donors a second time after a first donation has been made, she says. And unless organizations solicit monthly donations, people are more prone to giving a single time.

Depending on the success of the initial launch, the campaign may be rolled out nationally in the new year.

Stephen Thomas became the Alzheimer Society of Canada's AOR earlier this year. Through that relationship, the Alzheimer Society of Ontario approached the agency to work on this campaign as part of a separate effort to build a larger donor base.