The Strategy Awards' Grand Prix winner is…
FCB/Six took home the Grand Prix, plus four more golds, at the Strategy Awards for its Destination Pride campaign.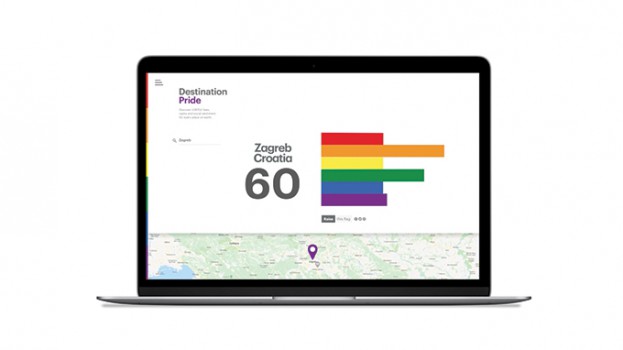 This story originally appeared in the October 2018 issue of strategy.
The Wins: Grand Prix + Cause/Public Service , Gold + Connection Strategy, Gold + Data/Tech Strategy, Gold + Niche Strategy, Gold
The LGBTQ+ community has come a long way, baby. Here in Canada, same-sex marriage has been legalized, Ontario had the first openly gay premier in Canada and a tiny Quebec town recently elected its first openly transgender mayor.
While these milestones are something to celebrate, they can give the impression that the fight for LGBTQ+ rights has been won. But that would be wrong, because both here and abroad, there's still a lot of work to be done.
Things like marriage equality, adoption, blood donation, military service rights, and so on, are governed by local public policies and laws. There is a lot of legal data around the things that profoundly impact a person's life, and navigating that data can create confusion. PFLAG Canada and FCB/Six decided to draw attention to the fact that inequalities still exist, while bringing scale to the organization's mandate and engaging with the LGBTQ+ community.
The Pride flag has always been a source of pride. So, the team used that potent symbol to make a serious point about the progress still to be made when it comes to LGBTQ+ issues. The agency used the purple, blue, green, yellow, orange and red stripes of the iconic flag to make a dynamic bar graph that was housed at DestinationPride.org.
The global effort launched in 92 countries and 46 languages, with the organization creating 109 unique Facebook ad campaigns targeting people who were interested in LGBTQ+ topics and travel. Ads ran in local languages, and were contextual to local news events, such as the cancellation of the Pride parade in Uganda.
At DestinationPride.org, people could search any town, city, province, state or country. The algorithm automatically calculated six key measures of acceptance, such as marriage equality, sexual activity laws and real-time social sentiment. Using that data, it generated a Pride flag visualization to provide a quick snapshot and point of comparison for how far a destination is on its journey to LGBTQ+ acceptance.
"Destination Pride" was a resounding success. In its first month, PFLAG engaged users from more than 150 of the world's 195 countries – and inspired calls to action among tourism offices, business leaders, politicians, celebrities and mainstream media. The team also got an invite for their striking data visualizations to hang at the Design Museum's retrospective on design and political messages in London.
The creative campaign garnered more than 135 pieces of media coverage, including Fast Company, Huffington Post, Lifehacker, as well as industry and LGBTQ+ publications from Brazil to Norway. There was a 1,226% increase in social mentions of PFLAG Canada during the campaign period and more than 85,000 flags were generated.
Online advertising achieved a click-through rate as high as 12 times the industry benchmark. The campaign achieved more than two million likes, comments, shares and re-tweets on social media, and an engagement rate as high as 60%. All of this positive attention led to "Destination Pride" becoming the most shared and discussed communication platform in PFLAG's 45-year history.