CNIB gives used smartphones a second, accessible life
The foundation gets vital apps in the hands of those with vision loss as it rolls out its rebranding strategy.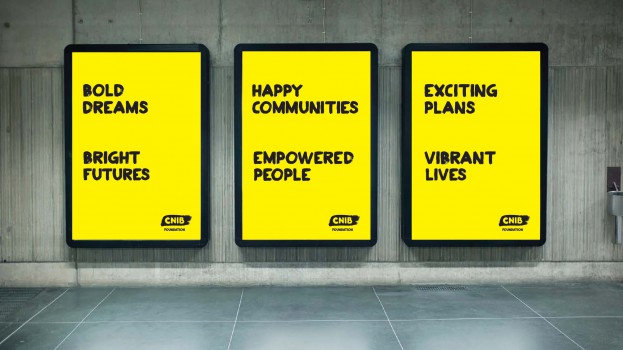 According to Statistics Canada, there are close to 25 million smart phone users in Canada, with many of them regularly upgrading their phones and keeping themselves abreast with the latest technology. The CNIB foundation, which recently turned 100, is targeting all those smartphone users through its latest digital campaign.
The "Phone It Forward" program gives Canadians an opportunity to donate their old smartphones for a tax receipt, so they can be securely wiped, refurbished and provided to people with sight loss who need them, with a number of accessibility apps installed.
"Phone It Forward" relies on accessible apps such as navigation, voice recording and colour and script identifiers to enable people with partial sight to use technology efficiently. According to research, "46% of blind or partially sighted people don't have capable phones or smartphones to run such apps," says Rob Hindley, VP marketing and social enterprise at CNIB foundation, who refers to this campaign as "transformative for people who can't afford such technology."
The charitable non-profit's last strategic plan had focused solely on integrating treatment for blindness into the government health care system across all provinces. This year, the organization is undertaking a rebranding exercise by treating their logo with high-contrast colour palette and new graphic elements on its platform (the organization was known as the Canadian National Institute for the Blind until 2010 when it shortened its name to CNIB, rebranding again this year as The CNIB Foundation). The theme of this strategic plan, in tune with its bright yellow colour, has been entitled "Bold Dreams, Bright Futures." The new look is developed by Twice DDB, the brand consultancy division of DDB Canada Vancouver.
"When we asked our communities what they wanted from us, they spoke about wanting to participate actively in the workforce, have better education and use technology to feel empowered," says Hindley. "We conducted town halls, focus groups and released an online questionnaire where we interviewed 4,000 people to understand what our clients really needed."
The foundation has tied up with strategic partners such as Scotiabank to distribute envelopes to people who wish to donate their phones and Fixt to refurbish the phones with accessible apps. Partnering with Chime Digital and Door Knocker Media, the digitally integrated campaign rolled out on Sept. 19 with video spots for social media channels. The video will also air across a series of local and national TV. Apart from this, CNIB foundation is using e-mail blasts and online ads to promote this campaign and its overall brand evolution.