NZ Pure draws parallels between Canada and New Zealand
The beer brand tests Canadians on their knowledge of local landscapes.
New Zealand beer brand NZ Pure is testing Canadians on their ability to recognize photographs of some of their country's most beautiful landscapes in a social campaign designed to grow awareness of the brand locally.
Part of NZ Pure's new "Beer from the other Canada" campaign and contest, the challenge proved to be more difficult than one might expect. Save for the occasional moose, it turns out Canada's landscapes are strikingly similar to those of New Zealand, leading as many as 50% of contest participants to fail at connecting landscape photographs to their correct corresponding country.
The social contest is being led by Toronto's Bob's Your Uncle, and entrants have a chance to win a trip to the "other Canada" by simply guessing whether a series of photos are from the land of Kiwis or Canucks.
NZ Pure has been available in Canada for a few years, but the recent push follows a packaging redesign (led out of New Zealand) that puts greater emphasis on its New Zealand heritage, as well as the country's "nature and purity," says Taryn Denman, director of marketing at Independent Distillers Canada, which distributes and markets Independent Distillers Group's ready-to-drink alcoholic beverages locally.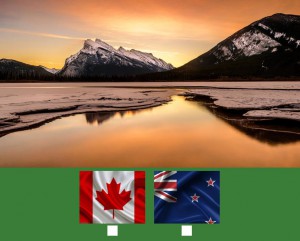 For Canadians, "It's a beer that tastes like home but that is not from home," says Denman.

The concept is based on the physical similarities between the two countries, but also of the personalities of their people, she says. "Kiwis don't take themselves too seriously, and Canadians sure don't either."

As of Sept. 28, the campaign had generated 300,000 impressions and more than 5,000 entries during its first two weeks in market. So far, it has reached 25% of its engagement goal for the three-month campaign.

In its New Zealand advertising, NZ Pure tends to play up the use of local and quality ingredients, says Denman. Once it has grown awareness of the brand in Canada, it will begin to establish that same uniqueness here.

The strategy is meant to give the brand an edge in a category where many imports are now brewed locally with local hops, she says. Unlike some of those imports, NZ Pure is made exclusively with New Zealand barley, hops and water.

Independent Distillers Canada is currently in talks with Tourism New Zealand about a partnership to help establish New Zealand as a popular destination for Canadians in a campaign set to roll out next year.