University of British Columbia unveils its new brand campaign
The university launched its largest campaign in a decade to help redefine its identity.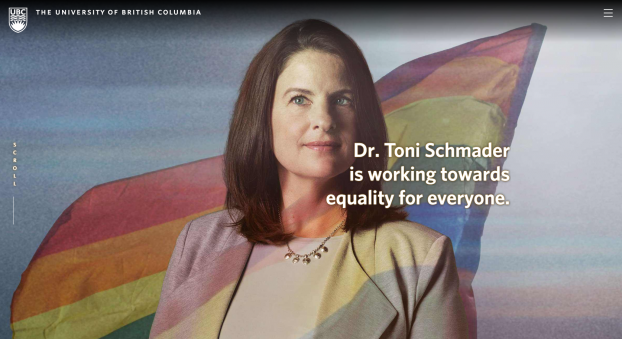 Established in 1908, the University of British Columbia (UBC) is ranked among the top 20 public universities worldwide and its latest campaign is trying to amplify the work its students and faculty are doing, at a brand level.
"The higher brand level activity has been missing for over a decade," says Rick Hart, director of brand and marketing communications at the university. "The goal of the campaign is to enhance familiarity and positive perception of the university nationally."
The branding activity is not directly tied to student recruitment and insights from UBC research helped lead to a campaign that  demonstrates the role that university education plays in society.
The "Potential is yours" campaign aligns with the university's motto – Tuum Est (It is Yours). Centred around a website, the idea involved capturing the voices of current faculty and students who talk about their work and address major issues faced by society, such as sustainability, brain research and gender equality, to name a few.
UBC worked with Taxi Vancouver on the creative, with MediaCom handling media. The multi-platform campaign will continue to be promoted until May 2019 in print, on TV (15- and 30-second spots), though social and experiential.
UBC uses a reputation tracking tool and the data collected was used to create the campaign. "The development of our brand strategy was a comprehensive one that took place over the last 10 months," says Hart. "We involved faculty, current and prospective students, alumni, management, totalling close to 12,000 people in our quantitative online survey across Canada and the U.S."
The campaign primarily targets Canadian business communities who hire graduate students and collaborate on research studies; but Hart says it also targets prospective students, faculty and general donors at large.

Although UBC did not disclose the campaign budget, the university did state that it was less than 0.15% of total revenue – North American universities usually spend this amount in branding activities, says Hart. The university currently has 65,012 enrolled students across its two campuses, with an 11.6% increase in international admissions from last year. It has a $2.6 billion annual operating budget.

"We have not set a hard target, such as student conversion or money raised, to estimate the success of this campaign – but its performance will be assessed at a perceptual level, in terms of increased familiarity and awareness of key brand attributes," he says. "In an era where there is an increased competition for the best faculty, students, funding and collaborations, we really have to work harder to raise our profile."