Hullmark sculpts a connection to Ossington
The real estate developer is using interactive public art to show how it wants to improve a neighbourhood it's working in.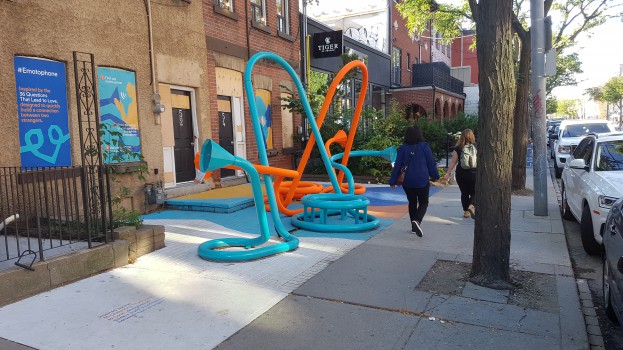 Real estate developers are, by their nature, going to disrupt any neighbourhood they are active in, but Hullmark is looking to show businesses and residents of one Toronto street that it wants its presence to be a positive one.

Working with Sid Lee, Hullmark set up a sculpture dubbed the Emotophone outside of four former row houses on the Ossington strip, an area where the developer has been particularly active. People who come up to one end of one of the sculpture's tubes will be prompted to ask someone on the other end one of psychologist Arthur Aron's "36 Questions." Aron claims the questions will lead to greater interpersonal connection, such as "when did you last sing to yourself" and "would you like to be famous, and what for?"

The sculpture is also recording and instantly transcribing the responses to those questions, which have been shared on a Twitter feed dedicated to the Emotophone.

The Emotophone was first set up the last weekend of August, during which visitors were given coupons to local businesses on the Ossignton strip. The Emotophone will be left up through October, partially so it could be part of Toronto's Nuit Blanche public art festivities last month. After that, Jeff Hull, president of Hullmark, says the art piece will likely be moved around the city and brought to other neighbourhoods.

Hullmark is among numerous developers that are changing the face of urban Toronto, sometimes to the chagrin of local residents and businesses who are wary of them changing what they like best about their neighbourhoods or are concerned about being driven out. However, Hull says that a major part of Hullmark's real estate strategy is to be more invested in the areas it is developing, and has previously worked to prove that through more "modest" place-making efforts, such as more traditional public art and improving streetscapes.

"A developer will buy a site for a residential development, for example, and go through the approval process, sell it to investors, build it and, once they close with buyers and sell the units, they're basically gone from the neighbourhood," he says. "A core part of our strategy is to be involved in neighbourhoods, not just for three to five years, but for ten, fifteen, twenty-five years, and play a part in the positive evolution of the neighbourhood. Yes, there is a real estate investment objective, but I think the intention is, through involvement with local stakeholders, to play a part in making a neighbourhood the best it can possibly be. Hopefully, through making a connection with residents, we show that we have shared objectives on that front."

For Hullmark, Ossington is a bit of a different situation in that there is no large-scale development like the multi-floor condo buildings many Torontonians are used to seeing pop up. The company has instead been doing "human-scale" developments that, while not as obviously impactful, can have just as big a role in changing the face of neighbourhoods, especially more tightly knit ones.

"It won't generate the type of headlines as something like One Bloor West [an 85-storey skyscraper that will be the largest building in Canada when it is completed in 2022]," Hull says. "But it's this human-scale development that will be as meaningful for that short stretch of Ossington as a larger scale development would have on other neighbourhoods. It's not just residents there, it's a really passionate business community and the customers who visit them. If we don't get their support and show them the kind of positive impact we want to have, it makes it hard to achieve our overall objectives on the street."

While the Emotophone also serves as something as a metaphor for the need of human connection in a digital age, and can also be a way to bring people together during a year when tragedies like the Yonge Street van attack and Danforth shooting have happened on busy urban streets in Toronto, at its core it remains "a beautiful sculpture on its own," says Hull.