Gadget Tracker: Google adds a screen to Home
Plus, Amazon brings Alexa to French Canadians and Samsung launches smart home hub north of the border.

Google launches latest device in competition with Amazon
Information about the newest Pixel phones were what most were clamouring for ahead of a new hardware event held by Google earlier this week.
The tech giant also revealed Home Hub, a version of its Google Home artificial intelligence-powered smart speaker that comes equipped with a seven-inch touchscreen, which will compete with Amazon's Echo Show. Despite the attention voice platforms have been getting and the importance marketers have been placing on having a solid voice strategy, there remains certain information users would rather get through a visual interface, as well as capabilities a screen adds that voice can't do on its own.
Google showed off a number of these functions at the event, such as weather information, driving directions and recipes, as well as the ability to pull up YouTube videos. Fitness was also a focus at the event, as the company demonstrated the ability for someone to follow along with a yoga class on the device.
On the new phone front, the new Pixel 3 smartphones will have Google Lens, the company's visual recognition and augmented reality platform, built directly into its cameras, making its services faster and easier for users to access. The phone will also be the first to receive Duplex, a service that gained a lot of attention when Google first demoed it earlier this year  for its ability to use AI to mimic human conversation over phone calls (though the Duplex service is not planned to launch in the Canadian market at this time).
Bonjour, Alexa
Roughly one year after Amazon made Alexa and its suite of skills available in Canada, brands looking to reach French Canadians in their preferred language will now have that option.
The company has released a new Alexa Skills Kit compatible with Canadian French, a Canadian French voice model and translated several resources French developers might need to create their own skills. This will allow them – including the ones working for Canadian brands – to get a head start on making sure new and existing skills are ready for French Canada when Alexa-enabled devices add support for Canadian French, which is expected later this year.
Samsung brings smart home solution to Canada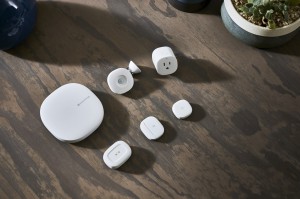 Samsung is looking to make having a smart home in Canada easier by bringing its SmartThings line north of the border.

SmartThings is a line of sensors and smart home products that can be fully controlled and automated from an app of the same name, and is also compatible with the company's latest Galaxy mobile devices, Family Hub line of connected appliances and some third-party devices from brands such as Ecobee and Ring.

SmartThings products include a WiFi router that can connect all of a home's devices, sensors that detect temperature, movement and if doors are open and outlets that can be used to partially automate "traditional" items and electronics like lamps.

Jennifer Safruk, VP of sales and product management, mobile at Samsung Canada, says in a press release, "with our comprehensive portfolio of connected devices, we are uniquely positioned to offer Canadians a way to manage their connected ecosystem of devices, whether controlling the lights, TV, temperature and even home appliances."