Google brings image recognition to search
Google Lens functionality in Image Search will allow users to hunt down products with nothing more than a picture.
Google is bringing the capabilities – and ecommerce opportunities – of image recognition to its traditional Image Search platform.
Google Lens is an AI-powered image recognition function that was, prior to today's announcement, only available when using the camera or Google Photos app on its Pixel phones and certain Android and iOS devices. It could be used to find information about any image captured by the camera or found within the Photos app. The AI-powered tool can turn up info about public landmarks or the business behind a storefront, or identify the breed of a dog in a park. It can also be used to find out about a specific product.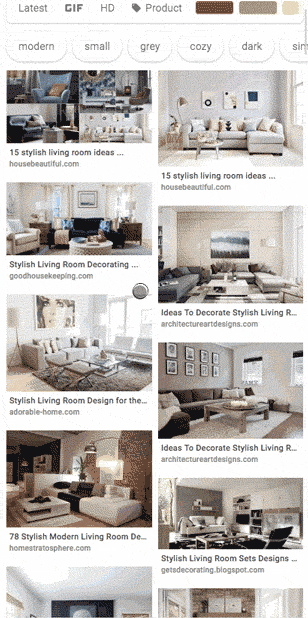 Starting today, any image found through Google Image Search can have Google Lens applied to it by clicking the corresponding button. Individual items will be identified within the photo and marked with a spot; clicking that spot will bring a list of results for that item – or ones very similar to it – from a range of online retailers.
For example, someone who sees a couch they like in a photo of a living room can bring the photo into Image Search – either by searching for it, dragging it into their search bar or doing a reverse image search – and, once Lens identifies it, click on the spot to see a list of product pages from retailers like Amazon or Wayfair.
The applications for Google Lens to direct searchers on the platform to specific products has obvious benefits when it comes to attracting advertisers, something sites like Pinterest (which has its own visual search tool) have been particularly active in trying to do.
Sites and retailers like eBay  and ASOS have also been active in rolling out visual search tools to help consumers track down products they might have seen elsewhere, particularly when it comes to fashion and interior design.
The feature launched today for mobile users in the U.S. Google says it will be bringing it to other markets and add other functions in the near future.