JWT Canada leads rebrand of Pyxus International
The agriculture company formerly known as Alliance One International picks a new AOR amid shift to cannabis and vaping products.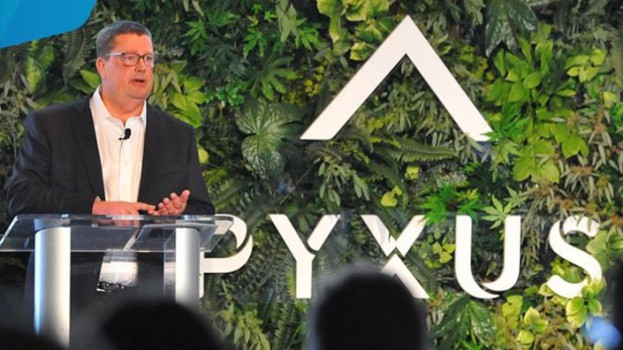 Pieter Sikkel, president and CEO of Pyxus International, at the Pyxus launch event in New York. 

J. Walter Thompson Canada has helped transform and launch agricultural company Pyxus International as the global AOR for the company formerly named Alliance One International.

In the lead up to the Pyxus' launch on Sept. 12, J. Walter Thompson worked on the company's new name, brand identity and positioning, architecture, website and will lead on future marketing communications. It began working on the rebrand and launch after winning the account through a pitching process that ended in April.

In a statement, Pyxus CEO Pieter Sikkel said the agency was selected for the "depth and breadth" of its strategic capabilities, adding that its "strategic acumen and experience" have been crucial as the company looks to broaden its business portfolio.

Formerly known as Alliance One International, the 145-year-old North Carolina-based company has built its business around the purchasing, packaging and shipping of tobacco to cigarette manufacturers around the world. In light of a decline in smoking rates, the company first moved into the vaping products space before throwing itself into cannabis ahead of legalization earlier this month.

Prior to legalization, the company obtained stakes in two cannabis companies, one in Ontario and one in Prince Edward Island. The new Pyxus brand identity reflects that corporate shift to cannabis and to "consumer-driven agricultural products."

The name was inspired by the Greek word for "compass" and is meant to stand for the company's "commitment to explore new directions for the benefit of their people, products and the planet," according to an agency press release.