Agropur launches dairy accelerator
The brand is using the lab to innovate around its products, as well as the way people consume dairy.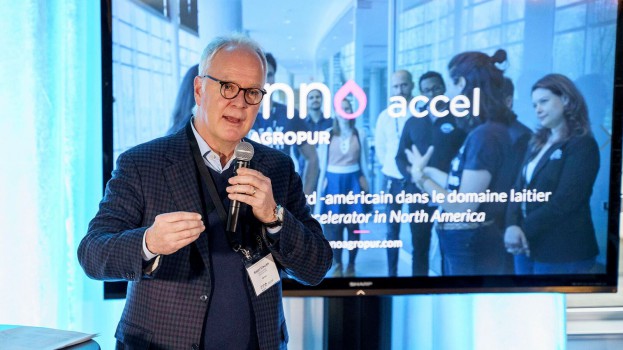 Quebec-based dairy co-op Agropur has launched Inno Accel, an accelerator program for its dairy business in Canada and the U.S.

In 2016, the brand created the Inno Agropur, which was a platform for generating ideas. Inno Accel is an offshoot of the original lab, with the aim to actually create new products and put them in  market. This is the first time the brand is matching entrepreneurs from dairy start-ups and mentors from outside its own organization to accelerate their ideas.

The five businesses selected for the first year include Montreal-based U Main, Sweetaly Dolceria, SaltiSweet Ice Cream factory, Cheese Grotto and Peak Yogurt. Over the next four months, the businesses will be paired with a mentor from the dairy industry and an Agropur executive, along with coaches to provide mentorship in areas such as marketing, sales and R&D. David Cote of Loop, Daniel Drouet of Soko, Alex Mensi from Mango, Marie-Eve Prevost of MissFresh and Nectarios Economakis from PNR are some of the mentors.

"We evolved from an idea generation platform to creating an ecosystem with entrepreneurs at a very early stage in their business," says Robert Coallier, CEO of Agropur. The participants will develop new dairy products inside a co-creation room at Inno Accel, which is located within Agropur's headquarters.

"Our goal is simple. We need to regain 'share of stomach'," says Coallier. "As an industry, we've lost share of stomach because consumer [behaviour] has changed."

Coallier sees the dairy accelerator program increasing sales and consumption of dairy products. He says Agropur is using the innovation lab to create new experiences in dairy rather than just launching new products. The brand is testing different ways that people can consume yogurt through dried yogurt chips for Iogo, for example. The crunchy yogurt bites (which are made by dehydrating yogurt) were released this past summer in Quebec and Alberta, and claim to be the first-of-its-kind.

Through Inno Accel, Coallier says the brand is also able to work with entrepreneurs within smaller markets, which should provide new strategies for Agropur to increase its speed to market.

The dairy brand identifies itself as a "shared economy business," as it distributes wealth (over $250 million in last five years) across the dairy segment in Canada, by collaborating with dairy producers, members and other brands. By collaborating with small businesses and providing a platform for innovation, Coallier says the program signals Agropur's shift from a product-focused organization to being more consumer-centric.