Design AOY Silver: Lg2 explores data-driven design
The agency built its expertise in data and grew its design practice outside of Quebec's borders.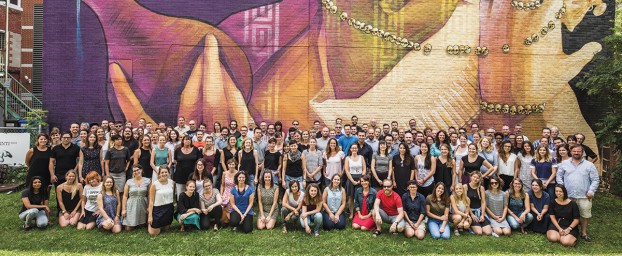 This story appears in the November/December 2018 issue of strategy.
2018 has been a year of expansions for Lg2, the latest being the opening of a new Toronto-based design and branding division in September. The creation of a dedicated team in Toronto was "inevitable," says the agency's Antoine Levasseur-Rivard, adding that it comes at a time when Lg2 is quickly growing beyond Quebec.
Levasseur-Rivard, who at one point worked at Lg2's Montreal office before joining Sid Lee in 2016, was rehired this year as group director of design. He now works alongside newly hired Ryan Crouchman, CD of design (who previously led Leo Burnett's own dedicated practice) to help build a design-focused clientele for its Toronto arm, which opened in 2014.
Following the success of the award-winning and visually-driven "Give-A-Care" project for Rethink Breast Cancer in 2016, Levasseur says the phones were ringing off the hook for design work from other brands in the city. Based on those calls, client demand is coming from the B2B space, as well as the finance category, which are now two areas Lg2 plans to focus its efforts, he says. "We are [also] now more open to architects and service companies, as they are beginning to understand the importance of branding."
The design team in Toronto is just three months old but has already secured three national and two international clients, says Levasseur-Rivard.
Design projects, across Lg2's Toronto, Montreal and Quebec City offices, account for 13% of Lg2's total revenue. The agency's original design studios, Lg2boutique, has earned a global reputation with award-winning branding work for clients such as Farnham & Lager, The Olympic Park and Natrel. Building a team in Toronto is a step outside of the niche it built in Montreal, but Levasseur-Rivard says the goal is to brand the division as being able to cross markets.
"Our goal is not just to be Toronto or Montreal-focused, but to be recognized as the only bilingual design agency," says Levasseur-Rivard. "We want people to be interested in us because we have the advantage of both languages and cultures."
Lg2 as a whole has attracted several new clients based on its collaborative approach. It spent 2017 and 2018 rebranding itself around the idea that it can go beyond a client's brief to find new opportunities. This "Lg1+1" approach, combined with its internal innovation process, called Elements, brought forth the idea of working in more collaborative teams.
"It is not about which office should handle what. Every product and project that we work on has a little bit of all the offices," says Alexis Robin, VP digital experience in Montreal. For instance, when Lg2 was tasked to rebrand Air Canada Vacations, the design, innovation and digital experience teams from both offices worked together to produce an online travel doc that seamlessly integrates into a website.
The challenge with design is proving it can generate results, which is why Levasseur-Rivard and Crouchman are putting a focus on data-driven design – a new direction for Lg2 given the creation of a 25-person data and insights team, led by VP Anne-Marie Castonguay in Montreal.
"With data, we will be able to offer more personalization to our clients," says Crouchman, using the loyalty app it created for restaurant brand La Cage as an example of how Lg2 is using data to make product suggestions through user-friendly digital experiences. He adds that design has evolved from separate, isolated projects to building experiences around a single platform.
"We are beginning to focus on what our clients will need in the future and less on what they need now, thus seeing the market before it even arrives," says Levasseur-Rivard. "The culture has not changed, but what has changed over the last year is our future-forward thinking."
Key new business
Appy Here, Catelli Foods, Cidery Milton, Domino's, The Green Beaver Company, Vacances Air Canada, Ville de Montréal, Zoo de Granby
Key hires
Antoine Levasseur, group director, design; Ryan Crouchman, CD, design; Anne-Marie Castonguay, VP data and insights; Sophie-Annick Vallée, VP strategy; Caitlin Gora, strategy director
Staff
296
Cases
For full cases, go to designaoy.strategyonline.ca/winners/winner/2018
Music often stirs strong emotions: it can make you cry or lift your mood. Lg2 used this insight for its campaign for Orchestre symphonique de Québec. The organization wanted to attract new subscribers without alienating its loyal (older) base. The new logo communicates emotion via a supersized and stylized initial "O," which is for orchestra but also for the "Oh!" of surprise, awe, and admiration of music. The lettering style of the "O" also evokes the shape of certain orchestral instruments.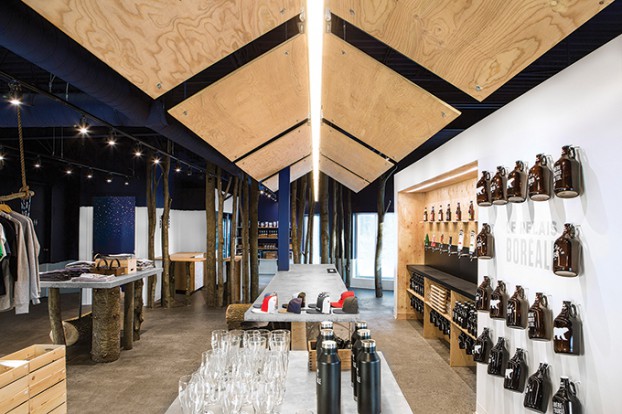 Lg2 brewed up a new brand image for Boréale, a pioneer of the Quebec microbrewing movement back in the '80s. The Relais Boréale boutique upped its craft cred, while a series of artisanal packaging was created for people to discover new beers, while also keeping them under the Boréale umbrella brand.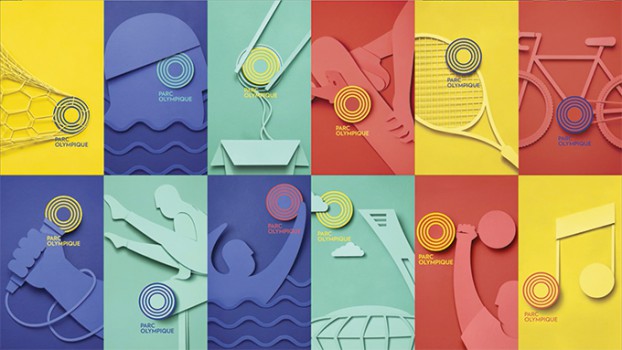 Lg2 has helped promote Parc Olympique as the place to be for both locals and tourists alike. The team built, from scratch and by hand, a dozen handcrafted print illustrations that underline the many uses of the park.