Metro Toronto Convention Centre plays on city's multi-faceted offering
The facility looks to leverage Toronto's many dimensions in a bid to attract the interest of North American event planners.
The Metro Toronto Convention Centre (MTCC) is hoping event organizers across North America will continue associating its venue with the multicultural and multi-faceted destination that is the city of Toronto.
The U.S.-based Watkins Research Group recently recognized Toronto as one of the top-ranked destinations for meetings in North America, along with the city of Vancouver. The group's findings are based on a survey of around 1,000 meeting and convention organizers across North America, who rank the 40 most popular convention destinations.
The MTCC wants to build off that momentum with the launch of "mMulti," a new campaign and platform that positions Toronto as a "multicultural," "multi-culinary," "multi-generational" and "multi-sensory" destination, making it a top choice of event planners worldwide.
"Toronto's so trendy and hot right now," says Christine Tse, director of marketing at the Metro Toronto Convention Centre. Emphasizing the city's cultural richness is a matter of reflecting the "essence of Toronto," she says.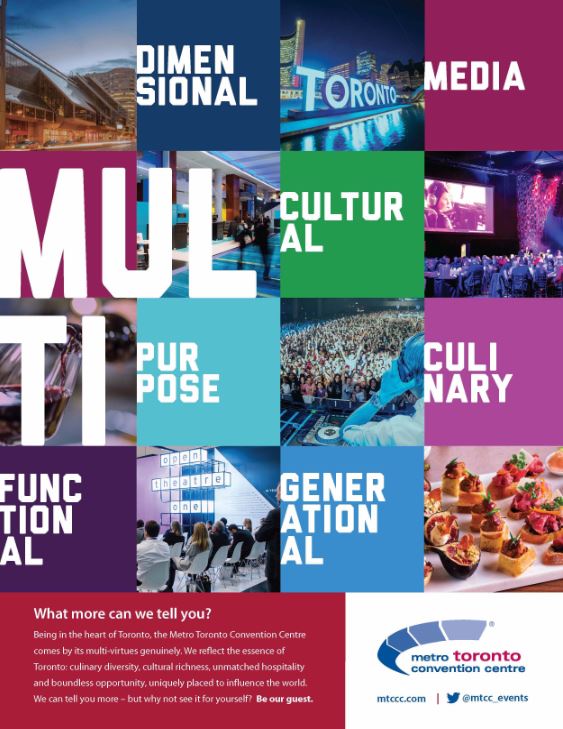 The campaign was developed by Toronto's The Turn Lab – its new agency partner – and is intended to motivate planners to learn more about the MTCC and to make a connection between the facility and the "multi-virtues" of the waterfront city.

Creative will appear in print and digital to drive awareness, but the campaign will more broadly help guide all of the organization's communications going forward, says Tse.

The MTCC has a niche target audience consisting of a group of international planners and others involved in the events industry. Reaching them requires "making those connections through story and ensuring that our paid, our owned and our earned media are working all together," she says.

"Multi" is intended to be "bolder" than the MTCC's previous campaigns, adds Tse, and reflects how the organization has needed to evolve the way it communicates with customers across the event planning community, who are looking for "short bites, bold, impactful messaging and ways to find more."

With "Multi," she says, "we just wanted to come out and state the facts."