How do online shopping habits vary by region?
Research by Environics Analytics identifies which products are most often bought online across different parts of the country.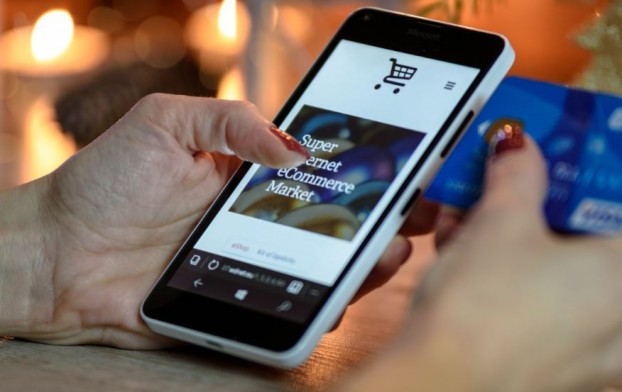 Consumers in markets across the country spend a similar amount online, but what they purchase with those dollars varies considerably by region, according to new research by Environics Analytics and J.C. Williams Group.
This year, Canadians are expected to spend $41 billion online, for an average estimated household spend of $2,748 for the year. On average, B.C. households spend the most, with around $3,369 in annual purchases, whereas those in Quebec spend the least, with annual expenditures of $2,236. Overall, the report estimates that 11.9% of all transactions currently take place online.
Of the total spent online, an estimated $7.8 billion (19% of total sales) are estimated to be on apparel, with online purchases accounting for 20% of all sales in the category (a rate surpassed only by children's toys, jewelry, electronics and entertainment). Meanwhile, online groceries represent an opportunity for growth, but currently only make up less than 5% of household spending.
The findings come courtesy of Environics Analytics' ClickSpend, a new database offering insight into the online and in-store shopping habits of consumers in Canada across 14 different spending categories, including clothing, health and food. The report pulls from Environics Analytics' own data and information from the "Canadian E-tail Report," a semi-annual online survey conducted by J.C. Williams Group. This year, estimates were produced based on 7,500 respondents over several survey cycles.
ClickSpend identifies differences in purchase behaviours across provinces, cities and neighbourhoods, as well as specific consumer segments. For example, according to the 2018 data, Saskatchewan shoppers are more likely to buy health and beauty products online (representing 20% of overall purchases in the category), and those in Ontario are more likely to shop online for apparel (representing 28% of purchases in the category). Meanwhile, Quebec consumers buy 23% of their clothes online, and are "far more comfortable" purchasing groceries with their smartphone, computer or tablet than any other part of the country.
At a more granular level, in the Greater Toronto Area, more online electronics purchases happen in the suburbs of Mississauga and Markham than in the city of Brampton or in Toronto's east-end Danforth area. In Montreal, the predominantly French communities of Laval, Blainville and Mirabel demonstrate a preference for bricks-and-mortar stores when shopping for electronics, which accounts for their comparatively low rates of online purchases.
Online spending per household by category (2018)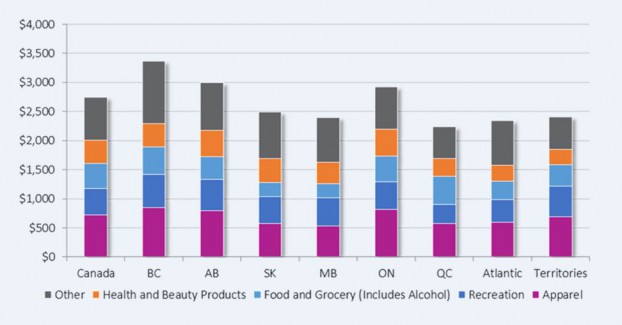 Source: ClickSpend 2018, courtesy of Environics Analytics and J.C. Williams Group.