Tony Altilia: stories from a life in adland
Friends and colleagues remember the former Downtown Partners and Leo Burnett exec, who passed away last month.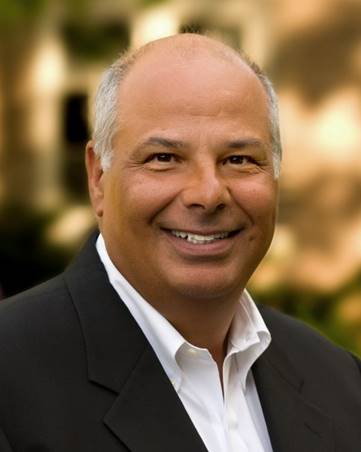 Former Canadian advertising executive Tony Altilia passed away last month. He was 68.
Starting his career client-side at Campbell, Altilia later moved to J. Walter Thompson's Canadian office before eventually being hired as director of client services at Leo Burnett. He would later move to the agency's Chicago office to lead its Reebok and McDonald's accounts. Altilia wrote in I Wish Someone Had Told Me, a book he published in 2008, that while his time at Leo Burnett Toronto was among the happiest of his career, his post at the Chicago office was when he was the least happy, having dealt with internal politics and missed the fun, collegial atmosphere of the Toronto office.
Altilia was drawn back to Canada in 1998, taking over as president of Vickers & Benson. He became president of Palmer Jarvis DDB in 2001 and was appointed president and CEO of Downtown Partners DDB the following year. He retired from agency life in 2007, though he continued to work as an instructor at OCAD, as well as consulting work through his firm Maxim Partners and Perennial.
Last week, friends and former colleagues gathered at a "celebration of life" in Altilia's honour. Based on a suggestion from DDB's Lance Saunders, strategy asked some of those friends and colleagues to share not only their memories of Altilia, but the things he taught them:
Lance Saunders, former president and COO, DDB Canada
In hearing about Tony's passing it amazed me how many people I spoke to, texted or emailed [shared how] Tony, at some point in their careers, had a lasting impression upon them, whether it was when they were just starting out in an account executive training program session he was leading, in a boardroom with a client where he shared his point of view, or just sitting in his office chatting with him. It reminded me of a quote by John Quincy Adams: "If your actions inspire people to dream more, learn more, do more, and become more, you are a leader." Tony Altilia was a leader.
Like many others, I never came away from a conversation with Tony without being enriched in some way. We will never know how many people are working in our business today carrying something inside them that led them to their own contributions in our industry.
That is why we need to acknowledge what he did. Our business community in Canada, unlike the U.S., is not based on the celebrity CEO with a PR staff ensuring their names get in the press. Tony was an account guy who knew creatives were the rockstars and never looked to the spotlight, but one could argue his contributions far outshine any creative awards. One person can make a significant difference, as Tony did, and we as leaders should all strive to do what he did: inspire others.
Tony was so well connected through golf, squash, boards he sat on, university alumni, clients and agency people that whenever you traveled with him, you were usually the last to the gate as he had to stop and talk to everyone he bumped into. We had a game of  guessing the over/under on how many people Tony would know walking through the airport and on our flight (it was usually seven). Tony was an "influencer" and "maven" long before social media and Instagram made it popular. I cannot recall ever working on a pitch with him where he did not know someone on the inside somehow and he would just smile and laugh when we asked him "how?"
Kerry Rubie, vice chairman, Leo Burnett Worldwide
I have always thought that perhaps the most important contribution business leaders can make to their colleagues and subordinates is to help them change their attitudes and, in so doing, take them to a better place than where they were.  Tony was one of those rare individuals who was not only extremely wise, but was willing to share his wisdom with others and, very importantly, had the communication skills to do it. He was a change-for-the-better agent.
Frank Palmer, former chairman and CEO, DDB Canada
Tony was a one-of-a-kind man with a colourful palette of various talents. I knew him as a friend and co-worker. He was not only just a talented advertising "Mad Man," but a great family man and, later in life, a seasoned artist. He was always there for his employees and friends, and respectful of other people's feelings and needs.
He was a generous giver and never a taker. He always made time for others and had a contagious sense of humour, even when he was playing a bad game of golf (which was not usually normal). I, for one, will miss his humour and fellowship. But I know he's in a new and exciting ad land teaching others their craft.
Andrea Graham, marketing consultant and former client at PepsiCo
Back in 2002, when I was a VP of marketing at PepsiCo, Tony and his team from Downtown Partners were Gatorade's AOR. It was Tony who constantly reminded both my marketing team and his agency to passionately delve into the mind space of the Canadian Gatorade consumer, versus applying all of the U.S. consumer learnings. The result was Gatorade's first-ever hockey-centric creative (a spot for the launch of Gatorade Ice) because one in three children at the time played hockey in Canada, not soccer or basketball, which were focal points of the brand stateside. It was a win on so many fronts for the brand in Canada.
Martin Shewchuk, former CCO, Leo Burnett
My lessons from Tony are 30 years apart. We first met as young men at Leo Burnett in the '80s, and Tony did not take "no" for an answer. One late Friday afternoon, when I was CD, Tony came to my office. He apologized that he had forgotten to brief me on some copy required for a sampling program for a new shampoo brand, and it was due on Monday to the client. I walked around the office with the brief and asked every copywriter if they had time to squeeze this in on the weekend, but everyone was "too busy."
Tony said he'd try it on his own. Turns out, he went back to the team with the same brief, but also five crisp hundred dollar bills. Copy was ready for the client on Monday. After that, Leo Burnett was the first agency in Canada to create a head of creative services position.
During our retirement years, Tony was still very active using his skills for important issues. After the Danforth shootings last year, Tony volunteered for several gun control advocacy organizations in Toronto. He connected different citizen groups with that same agenda and introduced them to their local MPs. The goal was to push the federal government to pass Bill C-71, which it did on June 21, a month before he passed away.
Betty Hutchins, co-founder, Innerviews, and former SVP at Leo Burnett
One of the things that has stayed with me from my years working with Tony is the importance of "human capital" in business. Tony saw peoples' skills and knowledge as critical assets that needed to be strategically managed for an organization to advance its goals. Always a man to act according to his beliefs, Tony spearheaded Leo Burnett Toronto's foray into a highly successful on-campus recruiting program.
Rich Pryce-Jones, co-founder and creative partner, Grip Limited
It was 20 years ago, but I think the days that Dave [Chiavegato] and I worked with Tony will always be some of our fondest memories in advertising. It was the early 2000s and we were working together on Bud and Bud Light at Downtown Partners. Tony was a charmer. A big guy with a bigger smile and a genuinely good heart.
I remember the weekend before we were going to tell Tony we were leaving Downtown Partners to start Grip, I went to his house for a small get together. He'd heard news that there was a list of "a bunch of Creative Directors" who were planning on starting an agency. He cornered me and was pressing for information to see what I knew. Tony had a hell of a presence, and as a 33-year-old, frankly, I was terrified. When he found out it was us, he laughed, shook my hand, wished me luck and said "I'd have done the same." And that's something that's stuck with me. Business is business, but it's not about you.
I think if anything, the lesson is that respect, decency, sharing a good laugh and a firm handshake are the things that matter most if you want to succeed in this business. Tony embodied those things. He'll be missed by us, and by a lot of people who worked with him.
Dave Chiavegato, co-founder and creative partner, Grip Limited
Getting to know Tony, it became clear that he was someone who loved life, loved his job and loved his family. He had a smile that lit up a room and a great sense of humour. I got the sense that he thought Rich [Pryce-Jones] and I were both a little nuts, but he never failed to be supportive of both the work and his team members. He made you feel like he was your partner instead of his boss. The memories of working with Downtown Partners are very special to me. Tony was a big part of that.
Judy Flanagan, a 
former client services at Leo Burnett and former chief planning officer at Y&R
Tony taught me how to keep vibrant connections and make them personal. He reached out to ten people every single day as part of his routine, calling everyone on his list in alphabetical order, at least once, over six months. Once he got to Z, he would start over again. He did fewer phone calls in later years, in favour of electronic messages, but he was still a prolific connector. Tony taught me the power of short, interesting conversations, just to say "I was thinking about you."
Tony also helped me to be unafraid to talk turkey, to bring things up as they happen and to not let things fester.
Alan Middleton, marketing professor at York University's Schulich School of Business
I marvelled at many things about Tony. In addition to doing the job, he always managed to make friends of his clients and colleagues. He liked them and they liked him. He did the same for people who worked for him, many of whom remained his friends. He gave them direction without being oppressive, a natural mentor.
He built the hardest of personal and brand relationships: trust. Because of that, he had one of the broadest networks of family, friends and acquaintances of anyone I knew. You just could not travel anywhere and not bump into someone who knew and liked him.
He had a great balance of the needed discipline of marketing communications, with creative sensibility and instinct (which he showed later in some very good teaching at OCAD and paintings that he did).
He was sometimes reluctant to travel (unlike his wife Jo, who is a passionate explorer mentally and physically), but he grew to like it. The reason for the reluctance was not lack of interest or trepidation but an abidingly powerful love of home: that love showed in his family relations at every level. His strong attachment not just to Toronto, but special areas in the city like the Beaches, and his time spent with friends and colleagues on golf courses and other areas of social discourse.
Tony was the quintessential Canadian and multi-cultural Torontonian, with all the positives that this connotes. That is so, so needed in this increasingly divisive world.
Christine Andrews, co-founder, Co.RE Opportunity Fund; partner, The Deco Group; former account exec at Leo Burnett and VP at Vickers & Benson
When I was an account executive at Leo Burnett in the late 80s and early 90s, I reported to Dave Chalmers, but both he and Tony were the two managing directors. They ran the client service training program, and even though I remember almost nothing specific from those sessions today, I clearly remember one piece of Tony wisdom that I've used over and over again throughout the years:
"If I walk up to you and say 'Hey, I'm Tony, I'm the nicest guy you're ever gonna meet,' you're going to think 'Tony's a jerk! He sure doesn't seem nice.' But if I show you how nice I am through what I say, how I say it and what I do, you'll reach your own conclusion that I'm a really nice guy. And then maybe you'll start telling others about Tony who is one of the nicest people you've ever met. That's how the most compelling communications work, they let the consumer reach the desired conclusion based on what they see, experience and feel about the brand rather than what the brand tells them. Then they become an advocate."
David Moore, advisory board chairman, Jackman Reinvents, and former president and CEO, Leo Burnett Canada
Tony was many things: smart, funny, accomplished at anything he set his mind to. But what set him apart for me was that he was an eminently kind soul in a very competitive business.
I never worked with or for Tony directly, but somehow, he was always there for me. My first serious advertising job was at Leo Burnett in the 80s, and Tony made a point of getting to know me and checking in on me. In the 90s, my career took me to Chicago where, once again, I found Tony with a welcome smile and sage advice on how to navigate my new city and agency. On my return to Canada, years later, Tony was running Downtown Partners, which was probably the hottest shop in the country at the time, but as always, he made the time to orient me in the marketplace and did everything he could to help me succeed in my new role. His actions were always selfless. He was that big brother with a protective arm around your shoulder.
Tony had a tremendous concern and aptitude for helping people become their best. I believe that is what made him successful in this industry, and I hope it is something that I have put into practice for having known him.
Tony Houghton, former chair, CEO and CCO, Leo Burnett Toronto
Actors think of themselves as family, and I submit that we advertising people think of ourselves in the same way. We change jobs, we change clients, we give ourselves awards. We know each other. We are family.
I am not quite old enough, and certainly neither Irish or Italian enough, to have been my friend Tony Altilia's father. But he was only 68 when he died, and I am 81, and still counting. I am as shocked by his death, as I would be the death of a younger family member.
When I first knew Tony, he was a junior brand manager at Campbell Soup in 1975, so we go back a long way, as family do. By the time [former Leo Burnett president and CEO] Jim McKenzie had the brilliant idea of hiring him, he was working for JWT in Montreal on the Kraft account, which our agencies shared. We offered him the job of director of client services at Leo Burnett.
We were a happy family. In our conference rooms we always had a bowl of Leo's trademark apples (fresh, as I used to tell prospective clients, wholesome and cheap). While the rest of us deliberated, Tony would chew noisily through two or three of those apples – he didn't just eat them, he massacred them! – before delivering his own strategic insight, inevitably right to the core: he had no time at all for verbiage and debate. Yet I never saw him angry. And I never met anyone who didn't like him.
In time we became good personal friends. He and his wife Jo stayed with us in the Bahamas and later at our cottage in Ontario. A week before he died, Martin Shewchuk and I visited with Tony at his home on Borden Street. He was cheerful and optimistic as usual.
Had I died first, as chronologically I might have, I would probably have asked Tony, and probably Martin, as well as my wife Dianne, to speak at my eulogy (make a note of that, Martin). But it won't happen that way. Good night, Tony. Pleasant dreams, and I can't imagine they would be otherwise. See you in the morning.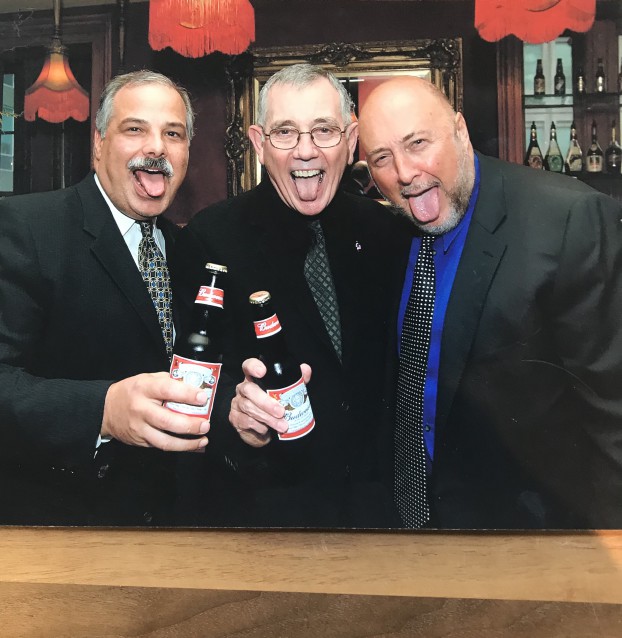 Tony Altilia, Keith Reinhard (Chairman Emeritus of DDB Worldwide) and Frank Palmer posed with a Budweiser for the brand's "Whazzz Up" campaign.