Frank & Oak to close some stores after filing for creditor protection
As part of a restructuring, the men's fashion retailer begins a process that could also include a potential sale.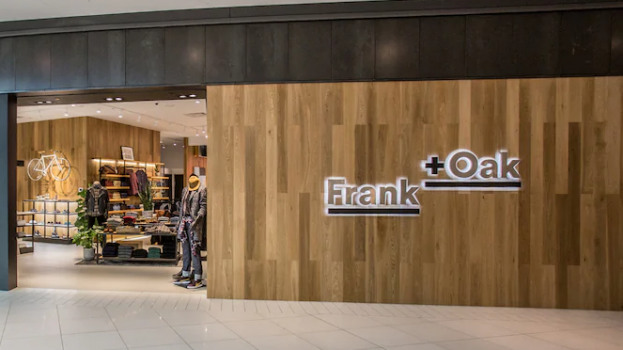 Men's fashion brand Frank & Oak has filed for creditor protection, the latest retailer to have pre-pandemic financial difficulties exacerbated by the closing of its stores.

The company intends to remain operational and undergo a restructuring process that could include the closure of several physical stores and a potential sale.

According to filings from trustee KPMG, Modasuite – the company that does business as Frank & Oak – has total debts amounting to $19 million, which includes more than $6 million owed to Desjardins and $11.9 million to a collection of suppliers, employees, landlords and tax authorities.

Frank and Oak's difficulties began prior to the pandemic. According to filings, the company recorded pre-tax net losses of $6.3 million and $10.4 million in the previous two fiscal years. For the ten-month period ended in April 2020, the losses had already reached $7.9 million.

Frank & Oak was one of the first of the online-born brands from the 2010s to make the leap to bricks-and-mortar to drive growth – but much of its financial difficulty has been attributed to physical retail.

The filings state that the company's bricks-and-mortar business had been impacted by trends in fashion and retail, including "changing consumer preferences, expensive leases and a general shift away from bricks-and-mortar shopping." It had "too many stores for the size of the market," and high occupancy costs resulted in a "high proportion" of stores that were not profitable. In addition, its now-closed wholesale division also delivered low profitability.

Those trends were exacerbated by the closing of its 20 stores in Canada on March 18 due to the pandemic (13 of which had reopened at the time of filing last week). In addition to cutting off revenue for several months, the profitability of reopened stores has been impacted due to the costs associated with safety measures. The privately held company also says there is a hesitancy among investors right now, limiting its ability to secure further financial investment.

As part of its restructuring plan, Frank & Oak plans to reduce its retail footprint by closing and liquidating certain locations. It is currently determining which stores should be closed. A sale of inventory, furniture, fixtures and equipment from the closing stores will be conducted no latter than the end of August.

The company is also pursuing a process in consultation with Desjardins in which it will solicit investment or potential sale of the company. The process is expected to begin this week and accepting bids for 60 days.

After years of dealing with business disruption due to ecommerce, retailers globally have struggled to stay afloat in recent months amid store closures and general business disruption during the pandemic, especially in fashion. Frank & Oak joins Reitmans and Aldo in the ranks of Canadian companies that have restructured their business under mounting debts.

Ethan Song, the company's co-founder, is also no longer listed as CEO, according to the filing. Song's LinkedIn profile thats that he moved on from the company at some point last year, having since founded a new tech company called Considerate Ventures. Jeremy Brown, a former CFO at Sephora, is now listed as Frank & Oak's president, CEO and interim CFO.