There are big pay gaps among freelance designers
According to a survey from RGD and DesCan, increases in creative salaries have not benefited everyone equally.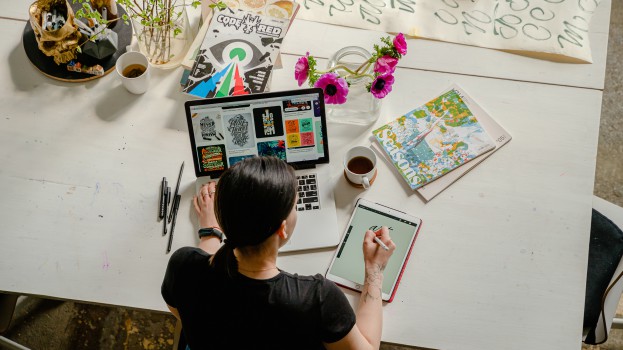 While salaries have gone up for many creative jobs over the last year, there are still noticeable pay gaps based on gender, sexuality and race for those in the most economically precarious position: freelance designers.
That's according to the Association of Registered Graphic Designers (RGD) and Design Professionals of Canada (DesCan), based on results from their tenth annual salary survey, with insights gleaned from 3,200 Canadians working in creative roles.
Among full-time freelance designers, women earn 82 cents for every dollar a man earns, for a pay gap of 18%. For 2SLGBTQ+ respondents, the pay gap was 29% compared to their heterosexual counterparts.
For BIPOC, strides have been made, but results vary wildly depending on what they do. BIPOC art directors earn 6% more than their white counterparts, with UX designers earning 2% more. But for communications, marketing and brand managers, white respondents earn 13% more. For design and creative service managers, that figure is 10% more.
Pay gaps are common among freelancers, regardless of industry. This is due, in part, to having less opportunities to regularly network with colleagues and identify where pay gaps exist, along with systemic factors and perceptions putting women, BIPOC and 2SLGBTQ+ people in a disadvantaged position when negotiating rates.
Respondents to the RGD/DesCan survey also shared insights regarding their workplaces' diversity and equity inclusion (DEI) initiatives. The most commonly implemented measure across all respondent categories is the incorporation of DEI into HR and recruitment. The second, reported by both in-house designers (39%) and design educators (32%), is the creation of a committee, task force or other body to focus on DEI.
However, 34% of business owners report that they have not implemented any initiatives. Among talent, 48% of agency employees have stated that they are not aware of any DEI initiatives made by their employer, with 38% of design educators and 36% of in-house designers saying the same.
Median salaries across most positions have increased from 2019, with UX designers seeing the largest increase at 19% and creative/design directors seeing the second-largest increase, at 17%. Design educators saw a decrease of 14%, but the survey authors pointed out that this may be the result of the size and reduction of the response rate.
Salary is the top driver of job considerations among creative professionals (89.3%), trailed considerably by job duties (68.1%) and benefits offered (48.9%). When accepting a position, the top three factors are compensation (90.4%), workplace culture (82.6%) and professional development (31.2%).
The most frequently offered benefit is the ability to work from home (76%), which was only the fifth most frequently offered benefit in 2019.
Hybrid work models appear to be the way forward for the majority in the industry, the report notes. Almost three quarters of agency employees reported that they will be working in some form of a hybrid model in 2022, along with 72% of in-house designers and 57% of business owners with teams.