2022 Brand of the Year: Zabiha Halal succeeds through authenticity
The Maple Lodge Farm brand dominates by tapping the desires of an ever-evolving Muslim-Canadian consumer.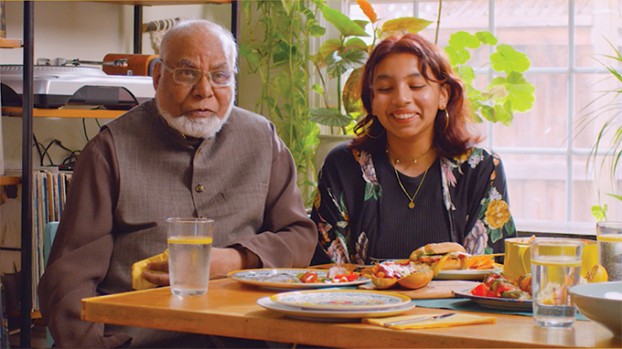 This story was originally published in the 2022 fall issue of strategy.
It's evolved from being a food brand into an advocate for the community. Focusing on real people and the authentic experiences of Muslims in Canada is what has set Zabiha Halal apart – and set the brand up for incredible success.
Part of what helped grow the Zabiha Halal brand was the simplicity of its "giving thanks" and "gratitude" messaging, says Sarah Khetty, marketing director at parent company Maple Lodge Farms. She tells strategy that initial brand growth came down to keeping it simple, too: telling Muslim arrivals to Canada that all they needed to do to find familiar food was to look for the distinctive green box in grocery aisles. That was enough to get the brand – which launched in 2004 and had an eight-year head start on its closest rival Maple Leaf Foods' Mina Halal – through the door and resonating in the category.
It's now become so dominant that the banner "Canada's number-one halal brand" is proudly amplified on packages. Zabiha Halal boasts a hefty 70% market share of the processed meat category, easily besting closest competitors Mina Halal and private label grocery rival, Sufra.
As Khetty tells strategy, Zabiha Halal's success is about staying true to its roots – providing halal-certified, tasty products for budget-conscious shoppers – but not stopping there. Equally important is thoughtfully innovating on the product side to attract an increasingly diverse and growing Muslim consumer base.
Resting on the fact that its customers are likely making more traditional meals, such as biryani, at home (and frankly, better, notes Khetty), the brand has leaned into producing more conventionally western options, such as striploin steak, burgers and chicken strips.
For the Zabiha Halal brand, it's a balancing act. It has to accommodate the needs of more well-heeled second and third generation Muslim-Canadian consumers looking for "fancier" items and product innovation (shoppers who might be more comfortable with the omnichannel experience), and newcomers who are more likely to be focused on their bottom line in a high inflation environment (consumers who are likely more tactile in their traditional, physical shopping habits).
"The community is looking to us to innovate, grow and evolve with them," explains Khetty, herself a second-generation Muslim-Canadian. So, to break through to a routine-based halal consumer, the brand must convey that it has other products – ones that, in some cases, the Muslim-Canadian public has itself demanded – available on the shelf. For example, innovation in the frozen and non-frozen snack category was at the core of its recent August to October back-to-school campaign, one that highlighted pizza bursts, corn dogs and Chicken Stix. (The latter being the first of its kind to be available on a national basis.)
Such kid-friendly SKUs, Khetty explains, represent popular local staples that Muslim buyers would previously not have been able to consider. And they are also solutions for increasingly busy Muslim households – dinner quick-fixes that can be pulled out of the fridge or freezer as needed.
For example, Zabiha's internal insights revealed that pizza kept coming up as a product offering consumers were keen to see from the brand. The team realized that by launching a frozen pizza burst (a halal pepperoni pizza twist on a classic childhood snack) it could stand in competitive set which is largely haram (religiously forbidden) because so many of the offerings include restricted food items.
To launch its new frozen microwave corn dogs and pizza burst frozen snacks, the brand and agency partners created a multifaceted campaign – a mix of OOH, digital assets, social assets and influencers – to ensure learning about these products was as easy as preparing them. To further drive trial, it drew eyeballs through digital flyer Flipp, too.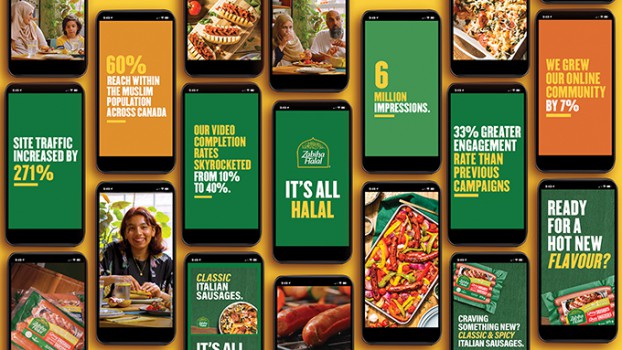 But while there has been impressive growth in the offering when it comes to quick-fix dinner options, that's not to say the brand isn't continuing to invest in the fresh food side of its business as well. This past summer, like other meat brands, Zabiha Halal tapped the cultural propensity for backyard grilling to be top of mind with BBQ fans with offerings like Classic & Spicy Italian Sausages.
In 2021, Zabiha found success as the only Canadian brand to bring mainstream sausage flavours – classic and spicy – to the Muslim community. It reached its demographic via geographic targeting and lifestyle and word selection, with a heavy focus on digital to be more efficient and engaging with a growing target, as Muslims now represent almost four percent of the Canadian population.
The brand's award-winning "It's All Halal" campaign, created by Toronto-based lead digital and social agency King Ursa, incentivized its target audience to engage in a trial offer that was available for redemption on the brand's website, ultimately reaching 60% of the Muslim population across Canada with six million impressions and a 201% return on ad spend.
And its storytelling has changed alongside its increasingly digital presence. Since King Ursa came aboard a few years ago to work in tandem with Maple Lodge's long-standing lead creative shop Riddoch Communications, media agency Media Dimensions and Craft Public Relations, Khetty says Zabiha Halal has evolved its messaging.
The brand went from relaying information about halal stores, explaining where to find products and securing more space in retail, to branching out through advocacy and addressing topics that can sometimes be difficult to broach – such as bigotry, discrimination and anti-Islamic sentiment. It's through addressing these and highlighting the positive contributions by members of the Muslim community that the brand has really taken root.
You can see that evolution in the brand's longstanding "Sharing Halal" campaign. Now going into its fifth iteration, it has been key to further driving an emotional connection to the company.
Four years ago, the first campaign was a Muslim and non-Muslim talking about sharing Ramadan and iftar – the evening meal that is a coda to fasting. But it has since evolved to not only address what brings Muslim-Canadians joy, but also what causes them pain.
According to a Leger study commissioned by the brand this past spring, while 81% of about 1,500 respondents reported that Canada is accepting of people with diverse backgrounds, 33% expressed concern about the number of Muslim immigrants entering Canada. This past summer's campaign video, "Dear Canada," was an open missive from Muslim-Canadians to create a deeper understanding of their personal experiences.
Says Khetty, "It's about recognizing that if we are the largest brand that's part of people's lives and connecting to the Muslim side of their identity, we have a responsibility to speak up."