The Beer Store goes upscale
A new store concept, The Beer Boutique, targets urban dwellers with its Toronto launch this month.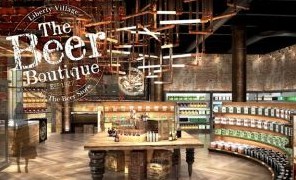 The Beer Store is adding a unique offering to its existing 440 retail outlets across Ontario with the opening of  The Beer Boutique on June 14.
The boutique will cater to the "hardcore city-dweller" and feature an upscale design by Toronto firm II By IV, including a central chef's table for tasting and pairing events.
A social media-heavy media plan is pushing the launch, including a refreshed website created by Toronto-based agency Design Lab, and a revamped Facebook page, Twitter feed and YouTube channel.
The Beer Boutique allows The Beer Store to respond to consumer interest in a very different type of retail location, says marketing director Dave Paterson.
"It's based on the need to serve the urban customer, who is looking for an upscale luxury shopping experience."
Paterson adds that he considers the launch of the boutique, and The Beer Store's freshly re-designed website, a re-focusing of the brand.
Located at 21 Lynn Williams St. in the center of Liberty Village, the new store will give customers the option to buy single beers, or an eight-pack in which they can mix and match their favourites, rather than the standard one-brand "2-4," which can be difficult to carry on public transit, or by bike.
Paterson could not comment on expansion plans, but said The Beer Store is currently in negotiations to launch additional Beer Boutiques in Ontario.