Viagra sends its regrets
Viagra's latest campaign brings laughs, but does it stand up against past performance?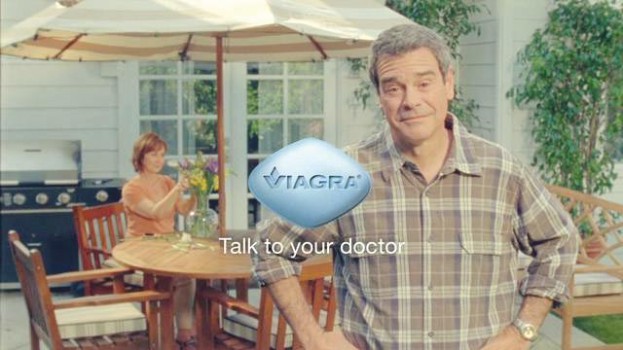 Guys, Viagra is sorry. It's sorry you were ditched on your canoe trip and that you had to play golf with a crazy stranger.
At least, that's what it's saying in its latest campaign,"Apologies."
The Pfizer brand has always used humour in its campaigns (all developed by Taxi) to kick-start discussions around erectile dysfunction, and the two latest TV spots are no different. One features three gents playing golf with a complete doofus because their buddy opted out, and the second shows a guy who was left to go portaging all by his lonesome. Both close with the absent friend looking into the camera, delivering a less-than-heartfelt apology while his wife looks on in the background.
"[The spots] take a lighthearted look at what's going on between guys and their buddies and how Viagra fits into their lives. It's an evolution of our strategy of a couple of years ago," says Heather Bisset, manager, corporate communications, Pfizer Canada.
Bisset is referring to "Confessions," which featured men talking to the camera about how Viagra helped them conquer chronic addictions to mundane tasks like strolling and antiquing, which was a switch from the previous "Viagra has its own language" effort, in that it brought the TV viewer into the conversation.
"It's more compelling for people to feel like they're being spoken to directly," says Bisset.
We asked Denise Rossetto, co-CD at DDB Canada, and David Bigioni, senior director, marketing, Molson Coors, if they think Viagra's current tack is up to snuff.
Overall strategy
Bigioni: I have always been a fan of the Viagra work but I don't feel this campaign works as hard as their previous campaigns. I don't find it as distinctive to their competitors – where they have historically always been the clear leader and innovator creatively in the ED space. I don't see what from this campaign will make its way into the cultural lexicon the way their previous campaigns have.
Rossetto: Humour and a lighthearted tone have always been a very powerful approach for this brand. They have made it seem fun to have ED. Okay, maybe not that extreme, but they take the shame and embarrassment away and allow the target to feel like this isn't such a secretive big deal. The one-to-one conversational tone has also made the brand approachable.
Creative
Bigioni: I am sure they will still be effective but I think the recall and branding will be softer – perhaps more remembered as a category spot vs. a Viagra spot.
Rossetto: It is impossible to judge this "Apologies" campaign without thinking of the previous "Confessions" campaign.  A man who no longer has to spend his days antiquing was brilliant, funny, smart and insightful. So, maybe it's unfair, but this latest campaign, although true to the Viagra tone, seems to have to work a bit harder at being funny. By focusing on the man's buddies they have refreshed the campaign but not necessarily made it fresher.
Bangin' the same old drum
Bigioni: It feels like a logical evolution but I don't think the execution is as strong – either from an engaging or memorable perspective. It could be that the strategy has run its course, or that they have gotten too comfortable with it.
Rossetto: It's a tough challenge to navigate the tricky world of pharmaceutical guidelines, as well as follow up a great campaign. They did a very nice job of continuing the humour and tone. Where the campaign is not quite as strong is the power of the insight. What guy wouldn't want to have sex versus antiquing? But giving up golf with his buddies…it just doesn't seem as true.
Next steps
Bigioni: I think the next step is to determine whether the creative strategy has run its course or whether there are still fresh ideas to mine within it. Certainly the category has moved closer to this area over the past couple of years – this may mean it's time to leapfrog ahead with a new fresh direction.
Rossetto: The "Apologies" campaign may not have hit all the marks, but the bar was incredibly high. The humorous approach still feels right and the ads are still entertaining and likeable. But, if the campaign is to continue to be as impactful, especially if they want it to go viral, they will have to make sure the humour and insights are as bang-on as they have been in the past, pardon the pun.
Credits
advertiser Viagra; agency Taxi; CCO Steve Mykolyn; co-executive CDs Darren Clarke, Jason McCann; AD Nicole Ellerton; writer Mark Lewis; account director Kate Horne; agency producer Alina Prussky; director Christopher Guest