When Telus met Bixi
Although the telco became a sponsor for the bike-share program this year, a connection was formed back in 2009.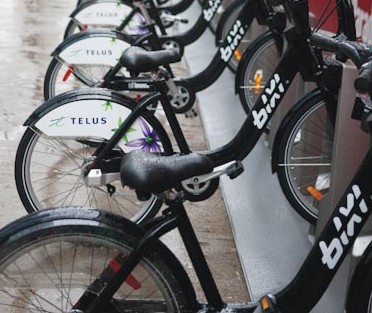 Bike lovers in Toronto and Ottawa who don't have wheels of their own can now grab a ride on a Bixi bike. The pay-as-you-ride program is all over the cities, and you won't see a Bixi station without some Telus signage. The telco came on board as a sponsor this year, but the Telus/Bixi story really started back in 2009.
It was that year in Montreal (where Bixi launched in Canada) that Anne-Marie Laberge, Telus VP, marketing communications, first heard about the bike share program, and it was love at first sight, she says.
"I just thought it was such a perfect brand fit in terms of 'Future Friendly,'" says Laberge, "which is more than just the product and the services that we deliver. It's any kind of partnership, such as Bixi, that would foster all the things we believe in, like healthy living and the environment."
That's why Telus didn't hesitate to sign on when Bixi, after becoming an independent entity, approached the telco last winter about being a launch sponsor. It also brought Desjardins aboard. Since then it's expanded to Toronto and Ottawa and Telus plans on sticking around for the ride in the event of further expansion.
"We have to find non-traditional ways to leverage our brand and this is a perfect way to do that," says Laberge. "It's not about advertising. It's about supporting a very important initiative and socializing our brand, allowing people to interact with Bixi and engaging consumers with it." Telus is also a big arts sponsor and when Laberge spoke at the Kronos Quartet Luminato kickoff concert last month, a mention of Bixi got spontaneous applause.
Telus will also donate $1 to the Heart and Stroke Foundation of Canada for every Bixi membership sold.