Toronto Pearson takes off
With Pamela Griffith-Jones in the cockpit, the GTAA launches a new brand strategy it hopes will turn the airport into a must-visit destination.
When you run the only large-scale airport in town, it's easy to take your customers for granted. After all, why spend money on marketing when there's no competition for most flights?
But Pamela Griffith-Jones, chief marketing and commercial officer of the Greater Toronto Airports Authority (GTAA) – the corporation that runs Toronto Pearson International Airport – sees things differently.
"Our passengers and our airlines have choices," she says. "Locally, people can fly out of the island airport or drive down to Buffalo. Connecting customers can choose to connect at other airports. And with airlines, you have to show why they should allocate an aircraft to Toronto versus Montreal, Vancouver or Chicago."
Every day, 87,000 people travel through Pearson, headed to 180 destinations served by 60 airlines. The airport is currently fourth in terms of international traffic in North America (behind Chicago, J.F.K. and Miami), with international flights accounting for 30% of its passenger traffic. In 2010, Pearson's international traffic grew by 9.5%, and Griffith-Jones believes the airport is in a position to pull even higher numbers, especially in terms of connecting flights. But it needs a little help from the marketing department to get there.
That's why this summer the GTAA is rolling out a repositioning that aims to make Pearson a more desirable destination.
The first step is acknowledging what consumers have known for years – that the consumer-facing brand is Toronto Pearson, not GTAA.
"Nobody flies through GTAA," Griffith-Jones says. "Yet, if you go around our airport, you see GTAA everywhere. What the heck does that mean?"
To define the new brand and its customer promise, Griffith-Jones and her team worked with Toronto-based brand strategy firm Local 5, resulting in a major mindset shift. "We're moving from thinking of ourselves as an airport operator to thinking of ourselves as a service provider," she says. "Ultimately what we sell is a service, whether to our airlines or to our passengers."
The new mission statement bears out this new way of thinking, promising to "attract, serve and delight our customers by offering value through innovation, products and services."
But hang on a second. Can an airport – with its long lineups, gruff security guards and overpriced glasses of chardonnay – truly delight customers?
Griffith-Jones knows this is a tough sell. "Generally people can think of the airport as something they have to endure," she says. But when customers do face delays or long layovers, she argues, why not give them a chance to make good use of that time by getting some shopping done, having a delicious meal or taking in some breathtaking art?
Before Toronto Pearson could delight its travellers  – now referred to as "guests" – the GTAA needed to know who they were and what they wanted, so it enlisted Toronto-based Hotspex to conduct a usage and attitude study. The research ultimately revealed that while the airport scored high in terms of cleanliness and safety, people felt it was a cold environment, lacking in positive emotion.
That last part seemed ripe for change. "If you go through an airport, it's one of the most fertile areas for positive emotion," Griffith-Jones says, pointing to the human drama that plays out every day in the arrivals area, as family members are reunited and immigrants touch Canadian soil for the first time.


With the rebrand, GTAA is hoping to give Toronto Pearson a friendlier, more welcoming vibe. This started with a new logo, unveiled in June. Developed by Toronto-based Ove Design & Communications, it features a human figure formed out of multi-coloured arrows, evoking the city's cultural diversity as well the notion of merging flightpaths. Designed on a sphere, the logo subtly suggests a globe, reinforced by the new tagline, "For you. The world."
"You'll see a lot more signage throughout the airport using lifestyle images," Griffith-Jones says, "and the objective is to bring a sense of that humanity that is playing out in our airport." Folks arriving from international flights and heading down the escalator into the customs hall will now be greeted by images of children holding signs that say "welcome" in the city's top languages.
On the day the new brand identity launched, Pearson hosted Guest Appreciation Day, offering $5 gift certificates off anything in the airport. Guest information centres are also being added to both terminals, with representatives trained by Tourism Toronto.
Another gesture of goodwill is the introduction of stools immediately after passengers clear security, marked with the letters Y-O-U. Dreamed up by the GTAA's agency of record, Juniper Park, the stools offer travellers a dignified place to tie their shoes and put their belts back on.
In replacing old airport signage with the new logo, the GTAA has also added more wayfinding cues, making it easier for customers to know whether they're in T1 or T3. Plans are in place to roll out more digital wayfinding systems as well. Right now, there's a single interactive unit in place that resembles a giant iPhone, displaying advertising while giving directions.
"Over time, there will be the ability to show promotions, so not only will it show you where Starbucks is, but if you go in the next 30 minutes and provide the code, you'll get 25% off," Griffith-Jones says. "It's an opportunity for us to help people find their way through the airport while triggering more purchasing."
In addition to determining travellers' attitudes toward the airport, Hotspex helped the GTAA define five customer segments, most notably "Suits on the Fly" and "Experience Seekers," which account for half of all revenue and traffic.
As the name implies, "Suits on the Fly" are business travellers who fly often and consider the airport an extension of their office. To them, Griffith-Jones says, delight would be the valet parking that Toronto Pearson offers, as well as the newly launched Car Care, which allows valet parkers to get their car detailed while they're away.
Business travellers carrying multiple devices will also be pleased by the introduction of new charging stations throughout the airport, including both outlets and powermats.
At the other end of the spectrum, "Experience Seekers" consider time spent at the airport as part of their adventure and tend to spend more money on eating and shopping.
As part of the strategy, several new retail options are headed into the airport, starting with electronics boutique iStore, which opens this summer, featuring the latest gadgets from Apple, RIM and more. New restaurants will also be added, including big-name fast food chains and outposts of authentic Toronto eateries.
Great restaurants and retail are critical in inspiring connecting customers to choose Pearson as their connection again, Griffith-Jones says. For these guests, the airport may be the only part of Toronto they see, so delight is also about creating a sense of place.
"We are the first and last impression of this region for 32 million passengers every year," Griffith-Jones says.
In that spirit, Toronto Pearson will be bringing some of the city's cultural events right into the airport. Shortly after the brand relaunch in June, the airport housed an art installation by Bruce Mau as part of the Luminato arts festival and live music performances by North By Northeast artists. This summer, Pearson will display a show car from the Honda Indy, and a partnership with Toronto International Film Festival is in the works.
The GTAA has also launched a new website at TorontoPearson.com, with design by Juniper Park and back end by IBM and Ektron, which features an easier-to-use flight locator, tips on shopping and food options, and a guide to connecting through Pearson. Moving forward, this platform will serve as the base for mobile offerings.
The site also features a parking advisor, which allows users to input how many days they'll be away and then see all the parking options available, including prices – from the Value Park garage (which rivals Park 'N Fly in price) to valet.
Toronto Pearson has also been reaching out to drivers through a partnership with WestJet, which prompts consumers purchasing a ticket from its website to buy airport parking at the same time. A similar program is being negotiated with Air Canada.
Since some of the big changes headed to Pearson are not yet in place, Juniper Park also created a campaign to highlight things the airport already offers that guests may not have noticed. Dubbed "Make the invisible visible," the campaign calls out amenities like the free Wi-Fi that launched last summer ("Read something more interesting than this poster") and guest services offerings ("Directions, travel info, a knock-knock joke. Anything").
Juniper Park also led the creation of "vote boxes" – physical installations in the airport, mirrored by an online version, that let guests vote on what they'd like to see introduced, such as free parking on Fridays, children's play areas or a McDonald's. The goal is to make customers' desires come true by the end of the year.
Griffith-Jones says the GTAA's rebranding efforts have focused largely on passengers, since "where we have the most work to do is on the guest side." But the company is also gearing up to show off its new identity in Berlin this fall, at the World Route Development Forum – a trade show that brings together airlines and airports from around the world.
"The first year I went [to the conference], soon after I started, we had this pathetic little booth and we just weren't telling the story of Toronto or of Pearson," she says. "We have the opportunity this year with the launch of our new brand to tell the story in a more dominant way."
Since attracting connections to Toronto is a key part of the strategy, Toronto Pearson will be the sole sponsor of the conference's connectivity package, which includes Wi-Fi and internet kiosks. And since attracting new airlines to Toronto Pearson is about selling the region as much as selling the airport, GTAA is partnering with Tourism Toronto to have its representatives at the booth.
The city's multicultural mix is an important selling point when reaching out to airlines around the world. "Because of the depth of our population here, an airline can really tap into the Korean, Ethiopian or Egyptian market," Griffith-Jones says.
Back here at home, new initiatives will continue to roll out at Toronto Pearson throughout the year, with marketing efforts focused largely on campus, rather than on external media.
"We are Canada's largest out of home advertising venue," Griffith-Jones points out. "We're seen as a very desirable venue [for other brands] to communicate to all these customers, so we thought, let's take advantage of that ourselves."
Which is, after all, the point of the exercise – packaging the benefits of Pearson that are often overlooked as the arduous nature of air travel eclipses the adventure.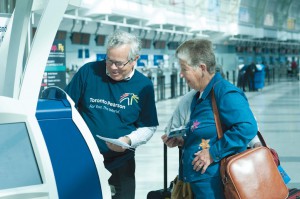 Bio
Born: Guelph, ON., July 26, 1965
Education: Griffith-Jones received both an Honours Business Administration (HBA) and MBA from the Richard Ivey School of Business, University of Western Ontario.
Career: She kicked off her career in corporate finance consulting with Coopers and Lybrand in London, England, then came back to Canada in the Coopers and Lybrand Strategy Toronto office. In 1993, she joined the strategy group at Canadian Tire, ultimately becoming VP of the leisure division. Next, she joined Sears as CMO, then moved on to become the interim CEO of Obus Forme. She joined the GTAA as chief marketing and commercial officer in April 2009, overseeing not only marketing but also all airport business, from commercial relationships with airlines to revenue generated via parking and retail.
Size of team: She oversees a marketing team of seven and an overall team of about 40, which includes air service development.