TIFF: Skyy Vodka lights up the night
The PMA Canada brand kicked off its festival sponsorship with an eye-catching stunt.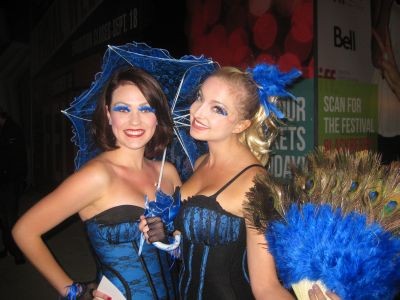 PMA Canada brand Skyy Vodka kicked off its TIFF sponsorship last night with a burlesque-style stunt high above King Street in Toronto next to the Bell Lightbox where much of the festival's events will take place.

An aerialist dressed in Skyy Vodka-blue performed a routine in a giant martini glass, suspended 35-feet in the air by a crane.

The stunt was a kick-off to the largest presence the brand has had at the festival, says Chris Staresinic, senior brand manager, PMA Canada.

"Being a part of TIFF brings the brand to life," he says. "It is a sexy, glamorous brand. Our target demographic is very in tune with what is going on at the festival. We will be activating across the board, you will see us at all the big parties. It will all culminate with the brand sponsoring a $15,00 award for Best Canadian Feature on the last day of the festival."

The idea for the stunt came from the brand's PR agency, Toronto-based NKPR, he says.

"We wanted to make a big splash, let everyone know we are a part of TIFF, and proud to be. We have been building the sponsorship over the years," he says.

Staresinic says Skyy Vodka's TIFF sponsorship is the cornerstone of its media planning for the year, supplementing it with print advertising.

Videography by Jennifer Horn.