Fall TV: HBO Canada ups the sponsors for Boardwalk Empire
Canadian Club, Sears Canada sign on for season two of the prohibition-era drama.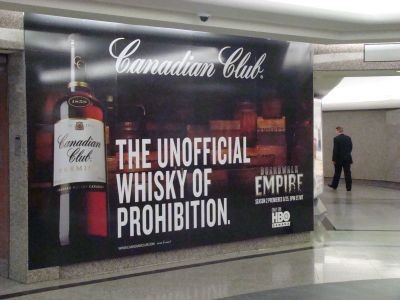 HBO Canada has upped the ante on its sponsorships for season two of Boardwalk Empire, which premiered on Sunday.

Both Canadian Club and Sears Canada have signed on as sponsors of the show, which attracts a predominantly male audience of 35- to 54-year-olds, activating with product placements and promotions, says Jennifer Potts, marketing manager for movie services at Astral Media.

Potts says the relationship with the Beam Canada-distributed Canadian Club came about from a similar partnership with Beam International for the first season of the show.

"Canadian Club is featured in the background of the second season because the series is about prohibition, which wasn't happening in Canada so alcohol was being transported through an underground system," she says.

The whisky will be promoting its sponsorship by partnering with 100 bars and restaurants throughout the country to execute on-site sampling. Promotions will also include OOH advertising in the PATH system in Toronto at the Brookfield Place entrance to Union Station.

Sears Canada partnered with the show after seeing a similar promotion last year with US chain store Macy's, says Potts. Its sponsorship is promoting the Boulevard Club, Distinction, Attitude, Chaps, and Calvin Klein men's clothing lines.

Special Boardwalk Empire vignettes have been set up at 10 Sears Canada locations across the country, including the Eaton's Centre in Toronto, Pacific Centre in Vancouver and Avalon Mall in St. John's Newfoundland.