AToMiC Grand Prix
Stanfield's Guy at Home in his Underwear takes the top honour in our inaugural AToMiC Awards.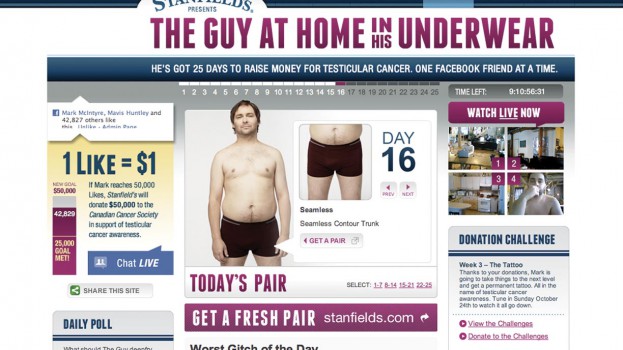 Stanfield's Guy at Home in his Underwear
Also won: Gold AToMiC Idea, Gold Best Digital Engagement, Gold AToMiC CSR
Stanfield's, a 150-year-old, family-owned underwear company from small-town Nova Scotia, was well known among the older generation, but when it came to younger consumers they weren't even in the conversation. In fact, Radian6 tracking showed zero mentions of the brand online. The challenge was to get people talking about Stanfield's again.
The path to change was not going to be traditional. With limited funds to invest – $400,000 nationally – the solution had to stand out to get attention and drive results. The target was digitally savvy, so if John St. could come up with a bold enough digital idea it could use social networks and PR to earn a more significant media presence.
But it's hard enough to get men to talk about underwear, let alone Stanfield's. They needed to give the target something they would talk about that was rooted in Stanfield's "We Support Men" strategy. So rather than just saying "We Support Men," they decided to prove it for a cause that is literally close to both Stanfield's and the men who wear them: testicular cancer.
"The Guy At Home In His Underwear" was an unedited, unscripted social media experiment in support of testicular cancer awareness, where testicular cancer survivor Mark McIntyre, a.k.a. "The Guy At Home In His Underwear," attempted to spend 25 straight days at home in nothing but his Stanfield's skivvies live, on camera, 24/7, for all to see at GuyAtHome.com. For each Facebook "like" he received, Stanfield's donated $1 to the Canadian Cancer Society.
Four cameras were placed in the loft that streamed simultaneously. Facebook social plugins were tied to the "Guy At Home" website and Facebook page (one of the first in Canada to tie a CSR component with a Facebook "like" and one of the first Canadian sites to test the "chat" feature just as Facebook launched it). Tweets could be hashtagged with #guyathome while The Guy At Home had his own Twitter feed. And blogging software was integrated into the site so Mark could update folks on what was happening and have further dialogue with them.
One-minute videos that recapped each day were hosted on the Guy At Home YouTube channel and pulled into the site.
Direct donations could also be made through a branded donation page tied to the Canadian Cancer Society's back-end donation platform.
The Guy at Home in his Underwear became the fastest growing branded Facebook page in Canada with 52,000 new Facebook fans in just 25 days. The Globe and Mail called it "The best social media stunt the country has seen," with over $52,000 raised for the cause.
Viewers tuned in for over three million minutes of live streaming. That translates into over six years of viewing time. The campaign concluded with over 1.3 million page views and over 43 million media impressions.
Credits:
Client: Stanfield's
Agency: John St.
CDs: Stephen Jurisic, Angus Tucker
ACD/Copywriter: Chris Hirsch
ACD/AD: Nellie Kim
Agency Digital Producer: Mavis Huntley
Account Service: Niki Bartl, Joelle Woodruff
Agency Digital Planner: Tammy Chiasson
Production Company: Secret Location/Hard Citizen
Exec Producer: James Milward, Jacinte Faria, Eva Preger, Link York
Production Company Creative Director: Pietro Gagliano
Producer: CJ Hervey
Project Manager: Noora Abu Eitah
Technical Lead: Ryan Andal
Jump to: