Rogers brings music back to school
The telco promoted its wireless student plan on university campuses with a game of "name that tune" and a DJ performance.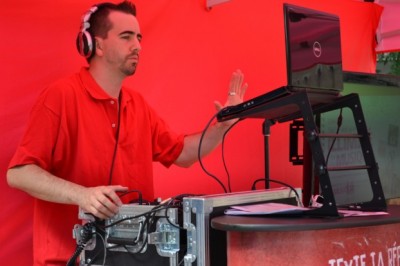 This fall Rogers is touring Quebec universities to engage students in a spirited game of "name that tune." It recently wrapped the effort, which offered students the opportunity to be finalists to win a VIP trip to Toronto for two, and tickets to a concert of their choice if they could correctly name a song.
A team of Rogers agents and a DJ stopped on campuses including McGill, Concordia, Sherbrooke University and Laval to hold an experiential show, put together by Montreal-based engagement marketing shop Em Agency, promoting the Rogers Wireless' student plan, which features the UrMusik by Rogers application. The effort is part of a larger push promoting the plan and new devices, handled by Montreal-based Marketel.
"We know [students are] a target that's hard to reach through the traditional media, and we want to engage them and have a closer relationship with them," says Lyne Mongrain, group account director, Em Agency. "The back-to-school period is a great time for Rogers to reach out to students. We targeted some high traffic areas where people would be not just passing through, but be in a relaxed mode and they'd want to stop by and be entertained."
Students could take part by guessing the title of a UrMusik top 50 song remixed and played by the DJ and texting in their answer. Various Rogers phones were given out to texters, with finalists being chosen from the fastest among them.