Travel Alberta gets winterized
The tourism co aims to show that it is a competitive travel destination with a new brand message and ad campaign.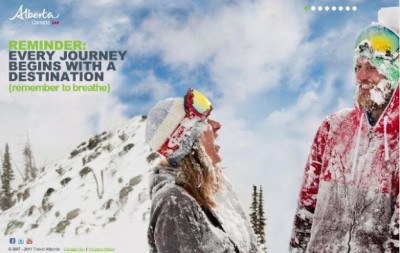 Newly branded Travel Alberta is more about experience and less about the trees, mountains and hills, says Royce Chwin, managing director of global marketing and brand strategy, Travel Alberta.

"Lots of places have those features. You can't just compete on that," he says.

And so the two-year-old tourism co decided to launch a multi-platform campaign, showing consumers that the destination not only offers a striking backdrop, but also a place where they can create memories such as "snuggling up in a sled under a warm buffalo rug" and "[skating] across an impossibly magical postcard scene." It included the new tagline of "Remember to breathe."

Beginning mid-November and running until March of 2012, the campaign was developed by Calgary-based agency Karo and planned by Venture Communications.

It speaks to consumers who speed through their day-to-day lives and tend to take that rushed state-of-mind with them on vacation, says Chwin.

"We want to give them a real simple connective idea [in the campaign creative] that will stop them in their place, give them goose bumps if you will, and then take them to the operators who will make the sale."

Placement of the campaign's commercials will be on networks in Canada, including CTV, Citytv, CBC and Global, and in the US, as well as in five Cineplex theatres in Ottawa. There will be also be print ads and a branded winter campaign magazine in the Ottawa Citizen, Calgary Herald and the Edmonton Journal and social media outreach conducted by Village & Co. A new website was also created where users can view the campaign creative and sign up for news and promotional deals offered by the organization.

Chwin says that there are a number of tourism brands in Canada that roll out effective and smart campaigns and so Travel Alberta decided to step up and defend the market share with its winter campaign.

"The competition is getting smarter, they're increasing their marketing budgets, they're building their own brands and they're getting a lot more sniper-like in their approach to attracting customers and clever use of media," he says. "We wanted to build a campaign that is focused on the customer and not ourselves."

While the destination already attracts 22 million visitors who spend more than $5 billion each year, Travel Alberta is looking to increase that by another $1 billion dollars by 2016.