A consistent winner, Rethink is back this year with a Finalist standing following a Silver win in 2009 and Gold in 2006. The agency opened its second Canadian office in Toronto in spring 2010 and it's been a good year for new business, as it was chosen by Lavalife, Lululemon Athletica, Kraft Foods, Muskoka Brewery, Metro News, Masterfile and Egg Farmers of Canada.
Muskoka Brewery gets cheeky
In late 2010, Muskoka Brewery decided to dramatically expand its business, going from niche brewery with local appeal to a major independent craft brewer. It worked with Rethink to rebrand the company and all its products, as well as name and design a new beer, Mad Tom IPA.
Rethink put the focus on the handcrafted heritage of Muskoka. The logo and package got a handmade feel, and tiny details were even hidden in the design, like a squashed mosquito on the base of the six-pack.
Print and outdoor work was handmade with the same quirky, obsessive attention to detail. OOH ads were placed near LCBOs, Beer Stores and Muskoka Brewery's key accounts.
In radio spots, popular cellphone tones "tricked" listeners into checking their phones. The announcer then called this out, and the listener was encouraged to disconnect for a Muskoka moment.
An iPhone app was created that cheekily guides the user through simple instructions to do nothing more than turn off their phone and crack open a Muskoka.
This year has been the best year for sales in the history of Muskoka Brewery. Shipments have outperformed Muskoka's aggressive targets by more than 40%, and Mad Tom IPA is Muskoka's most successful product launch in its history.
Metro News is worth sharing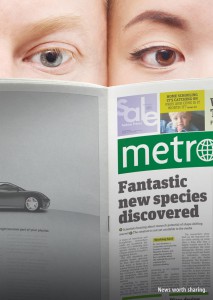 Metro News wanted to increase readership of its free dailies, published in five Canadian cities, without printing more papers. They needed to be deemed worthy of being left behind or passed along.
"News worth sharing" became the rallying cry, with the call to action of "Pass it on." Space was leveraged on Metro boxes and in Metro papers to reach known readers directly, with paper wraps, in-paper ads and box cards.
Transit ads targeted commuters. In one, two gentlemen sit across from each other on a subway car, one is reading the front of the Metro while the other reads the back. In another, the reader is hidden behind the paper, but one hand holding it belongs to a man and the other, to a woman.
Billboards, digital screens and bus kings also targeted commuters, and 30-second radio spots aired in Metro's five markets. Online, animated banners similar to the print ads were displayed nationally. In one TV spot, a woman reading her Metro on a bus is surprised by the hairy male arm that reaches over to turn her page.
A "Sharing Board" was set-up in Vancouver, with slots encouraging people to leave and take Metros. In Toronto, a copy of the paper was set up in a revolving door so that each person would have the view of one page.
And to help Metro promote its mobile app, tiny Metro mini-boxes were secured to poles around the city and prompted people to open them for their pocket-sized copy. A QR code then led them to the app download page.
While the campaign goal was to raise per-copy readership by 13%, without printing a single extra copy of Metro, daily readers per copy increased by 25%.
Masterfile's endless creativity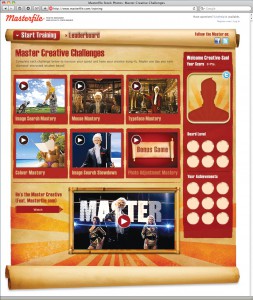 Stock photography company Masterfile wanted to get the word out about their image-search tool, Endless Media, which allows art directors to find the right images faster.
Knowing that most art directors are susceptible to workplace distractions, the idea was to provide a fun and engaging way to show them how to use the search tool. Enter the Master Creative – a creative sensei, equal parts Kung Fu and Lee Clow – designed to guide the target through a series of challenges.
The Master was introduced through a tongue-in-cheek rap video. The challenges were teased in rich media banners, allowing users to play snippets of the full games within the banners themselves. Copy-driven simple banners also appeared online.
By letting users create a profile, receive points, win badges and compare scores via the online leaderboard, players were subtly motivated to take on more challenges and further interact with the brand.
Rethink also designed and integrated unique web pages and features into the existing Masterfile website. The campaign was executed in four languages across seven countries.
Over the five months of the campaign, there was a 32% increase in new visitors to the site (vs. the quarter prior), and new registrations increased by 17%.
A&W goes premium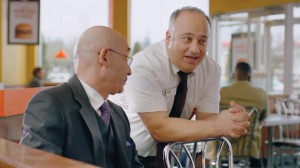 A&W wanted to become a leader among QSRs in the premium burger segment by introducing a new prime rib burger – the only one in the category and a first in Canada.
While TV advertising wasn't getting the desired result of communicating best-tasting burgers, it was building strong emotional connections. The long-running campaign was consistently rated highly for overall likeability, so Rethink set out to evolve the existing advertising platform.
The familiar A&W manager character, Allen, would still be featured, but a new character would be introduced – a fine food critic. The same tone was maintained so the spot was unmistakably A&W.
At the restaurant a similarly premium approach was used, with a focus on the high-end cut of meat. Point-of-sale elements were inspired by an upscale European butcher shop and featured a striped apron as the background pattern.
Sales during the campaign were up a strong 4%, reversing an earlier negative trend, and customer counts were up 5%. The advertising even created a following around the word "formidoubly," which Allen uses in the TV spot, creating unprovoked Twitter buzz.
Initial ad tracking research showed 52% of respondents strongly agreeing that the Prime Rib Burger spot "suggests that A&W burgers are great tasting," and a further 35% somewhat agreed, for an overall level never before accomplished by A&W.
Coast Capital makes you the boss
B.C.-based Coast Capital Savings, Canada's second-largest credit union, wanted to communicate its mortgage product.
Rethink's challenge was to name the product in a simple, friendly way and then to bring the product to life in the quirky, humorous Coast voice.
Research confirmed that mortgages make people feel like they are no longer in control of their money. But Coast Capital's mortgage puts the consumer in charge, with a rate that sits between fixed and variable and flexible payments. So it was called the "You're the Boss Mortgage."
The campaign was launched on TV, in print, online and in-branch. A social media contest was created called "You're the Boss of this Contest." Entrants revealed what they wanted to be the boss of in their homes and were entered to win $2,000 towards their dreams.
In two months, Coast Capital Savings exceeded its 2010 mortgage lending targets by over 500%. The annual 2011 targets were met and exceeded by the mid-year point, causing the targets to be reset for even more ambitious growth by year's end.
IPSOS ASI ad diagnostics showed high response rate to the TV spots, averaged at 24%. And in social media, 6,147 new fans were added, for a 487% increase.
Jump to:
AOY Gold: BBDO maps out a win
AOY Silver: DDB keeps exploring – and expanding
AOY Bronze: Taxi revs its engine
Honourable mention: Leo Burnett is back in the winners' circle
AOY Finalist: John St. hits its stride