DAOY Bronze: The unignorable drives John St.
Work for brands like Stanfield's and Tetley's nets John St. a third place finish in Digital Agency of the Year.
John St. has a way of putting itself on the map. For its 10th anniversary in July, the agency created buzz with an official street renaming ceremony. It renamed John Street to…John Street.
It's an example of the agency putting its mission – "be unignorable" – into action.
In the last decade, John St. has built itself into an unignorable entity, one that survived after opening its doors a few months before 9/11, emerging as an award-winning shop with a homegrown focus on digital.
In spite of its evolution, some things haven't changed. When partners and co-CDs Stephen Jurisic and Angus Tucker founded the company with president Arthur Fleischmann, director of strategic planning Emily Bain and managing director Jane Tucker, they developed a creative manifesto, The Book of John. The book has fattened over the years to include the agency's award-winning work, but the guiding principles, including the charge to "be unignorable," have remained constant.
As the book says, John St. began as "the chance to do it again," providing the opportunity to "build from the ground up" and be independent without having to answer to New York. Jurisic and Tucker had both come from large multinationals, where they say they were promoted too soon. They missed the creative process, and in starting John St., became self-taught CDs.
It's that independence and ability to shape the agency that's allowed them to tackle the challenge presented in The Book of John: "People hate advertising."
"It's true and for good reason," says Tucker. "It's an un-asked-for interruption…so we better have something interesting to say or we better say it in an interesting way or we will be despised."
"Or worse, ignored," adds Jurisic. Being unignorable is a great filter, he adds, as people hate ads but love ideas.
John St. applied that philosophy to Kruger, its first client, when it literally got ScotTowels into people's hands by inserting an actual Scot paper towel into each holiday issue of Canadian House & Home in November 2002.
Over the years, developing in-house expertise in specialty areas is what's given the agency an edge.
In 2006 it partnered with graphic design agency AmoebaCorp., which it partly owns.
"A lot of people don't bring true design thinking. They just make things look good," says Jurisic.
It was the decision to develop digital from within instead of buying it that has arguably put the agency ahead of the game.  Pharmaceutical client since 2008, AstraZeneca helped direct this course.
"They were fundamental to our growth," says Tucker. "They totally pushed us into the digital landscape."
AstraZeneca was converting paper sales materials into tablet-based PCs, and John St. converted the material into interactive electronic documents for over six brands. The project was so successful AstraZeneca adopted the technology throughout Asia and Europe. The agency invested seriously in hiring digital, and as the digital scape expanded, they added to that expertise.
They have an advantage over large agencies who have had to add digital divisions, they say, because they've built their expertise from the ground up and integrated digital into everything they do.
The agency recently developed its first app – for Rethink Breast Cancer's "Your Man Reminder" campaign – which took a year to create. Staying curious, Jurisic and Tucker say, is how they'll continue to move forward.
A sign tacked to the corkboard in their office, with a saying by Swedish digital school Hyper Island, sums it up: "When it comes to digital there's not an age problem, only a curiosity problem."
Let that be written in The Book of John.
The facts
Staff: 100
New hires: Malin Holmquist, art director; Dhaval Bhatt, copywriter; Hannah Smit, art director;
Keri Zierler, copywriter; Denver Eastman, art director.
New business: Kraft Singles; Economical Insurance; WWF; Mitsubishi; Family Channel
Stanfield's shows its underwear
The challenge for 150-year-old company  Stanfield's was simple yet daunting: become relevant to a younger generation of men who thought of the brand as "their grandfather's tighty-whities," if they thought of them at all.
Stanfield's brand proposition, "We support men," resonated well with the male target. And if he didn't care much about underwear, the agency would find something he did care about: testicles. Specifically, testicular cancer.
"The Guy at Home in his Underwear" was a live-streamed, 24/7 fundraising social media experiment. A testicular cancer survivor, Mark McIntyre, spent 25 straight days at home in nothing but his Stanfield's skivvies for all to see at GuyAtHome.com. Viewers could communicate with Mark via live chat and participate in fundraising challenges. And for each Facebook "like" received, Stanfield's donated $1 to the Canadian Cancer Society.
The agency streamed four cameras using LiveStream technology. Viewers could vote in real time on a range of daily challenges for Mark. Weekly donation challenges were integrated into a branded page tied to the Canadian Cancer Society's back-end donation platform. And one-minute videos recapped each day's activities.
The results blew away every success measure set for the campaign. There were 52,161 Facebook likes (vs. goal of 25,000), 700,000 website visits, 5,216,100 social media impressions and three million minutes of LiveStream viewing time.
There were also over 45 million media impressions in just one month, and 226 stories (vs. 15-20 goal) ran in outlets including the Globe and Mail, the National Post, Global TV, CBC and Sun Media.
It was dubbed "The best social media stunt the country has seen" by the Globe, and generated $52 million for testicular cancer awareness (vs. $25 million goal) and 52,000+ new Stanfield's FB fans. It also won the Grand Prix at the AToMiC Awards.
Tetley's colour therapy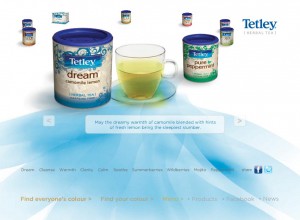 The herbal tea segment was on the decline at a rate of 2% per year – a disturbing trend to tea category leader, Tetley Canada.
Research showed that when consumers (mostly women) buy, they approach the category with a desired need state in mind – i.e., "I want to feel calm, soothed or uplifted." But the category approached her by ingredient first – peppermint, chamomile, passionflower.
The insight was that since people often use colour to describe their emotions and moods (green with envy, seeing red, feeling blue), colour could be used to help women match their mood with the right tea.
Traditional media such as TV and OOH would support digital and social media.
Based on a feed of status comments from Facebook and Twitter, the agency prescribed Colour Therapy for all of Canada through a real-time map on a digital hub that visualized the recommended colour of herbal tea at that moment. Consumers could interact with the site to get their own personalized Colour Therapy prescription that featured different coloured mood scales.
Contextually placed online banners, pre-roll and traditional TV billboards and transit shared an observation about its surrounding environment/content and told the consumer about the ideal colour to complement that placement. ("Gossip goes well with yellow" for the Cleanse variety promoted on LaineyGossip.com, for example.)
Tetley volume grew +17% in a flat market by the end of the campaign, and achieved its goal of becoming number one in tonnage volume (against previous leader Celestial Seasonings). Household penetration grew at twice the rate of the category while the competitor's eroded.
Engagement measures exceeded objectives with a microsite bounce rate of half the industry average of 50% and time per visit was over four minutes.
Pony power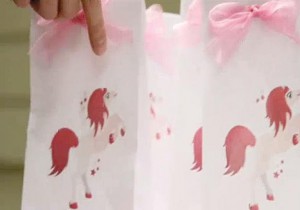 To bring awareness to the agency itself, John St. created a mock case study called "Pink Ponies" that demonstrated its integrated marketing prowess in making "Chelsea Bodano's eighth birthday
party a success in an already crowded birthday market."
Success would be measured by how many people would view the video, who those people would be, and to what degree it would generate press, awards and ultimately awareness among prospective clients.
The video was first used in an industry award show (strategy's 2010 Agency of the Year). The next day, it was sent out to a list of marketing and advertising blogs, sites and online magazines.
The satire on a traditional agency case study (overtly earnest and formulaic), showed the development of the big idea (Chelsea liked the colour pink, and ponies), through execution and, of course, ROI.
Five days after "Pink Ponies" was posted on YouTube, it had generated over 100,000 hits and has since been watched almost 300,000 times.
It was featured in Contagious magazine and was sent out with the Cannes 2011 Festival call for entries as a cheeky what-not-to-do warning to agencies.
The agency received congratulatory emails from the director of global strategy at Coca-Cola in Atlanta, a Diageo strategic director in London and the CEO of Time Warner in New York – all of whom wanted to use the video in presentations.
"Pink Ponies" won a Bronze Lion as well as a Gold Pencil at the 2011 One Show, and two months later, John St. met with Diageo and was awarded two projects.
All in all, not bad PR from one little girl's eighth birthday party.

Jump to:

DAOY Gold: Proximity's disciplined approach to digital

DAOY Silver: BBDO's digital push pays off

DAOY Honourable Mention: Grip's digital growth

DAOY Honourable Mention: Taxi's big digital fares