MAOY stalwart Starcom MediaVest Group remained in the top five with a fourth place finish, warranting an Honourable Mention thanks to work for brands including Kellogg, Kraft and Research in Motion. The agency, which has 190 people working in its Toronto-based office, welcomed new accounts this year including Microsoft, Dyson, Teletoon, Emirates and Darden Restaurants, as well as a new CEO, Bruce Neve, former head of MEC Canada, who replaced outgoing CEO Lauren Richards.
Vector finds the point of sweat
Kellogg cereal Vector's consumers had become more realistic about fitness goals, and the hardcore approach was no longer relevant. Vector needed to reinvent itself.
With the message that "what you put into your body is directly tied to what you get out of your body," the goal was to connect with consumers during their pursuit of their physical best – at the "point of sweat."
For television, the agency used a proprietary process which fuses a psychographic profile of the target with TV ratings. In a first-ever partnership with Goodlife Fitness, areas such as the water fountains, treadmill monitors and gym clocks were singled out. The creative was extended outside on cycling, running and blading routes. On Facebook, a Vector trainer provided advice, training and nutrition tips.
The campaign generated the first period of significant growth since January 2007. Following the campaign, volume change was +16% VYA, greatly outpacing the category at only +2%. Nielsen data attributes $1.3 million in sales to the impact of the campaign.
BlackBerry keeps its leading edge
In a marketplace that is increasingly becoming more competitive, the mandate was to ensure BlackBerry maintained its front-runner position.
During the last year Starcom MediaVest launched 25 partnership programs that were all Canadian firsts, and led the launch of a national retail program across 11 channels in North America.
The agency layered multiple first-to-market executions including AOL's Project Devil launch, a site customization to advertise on properties including the New York Times and Globe and Mail, and the first to launch 300×600 ad placements on Sympatico and MSN's homepages.
In the retail space, online brand stores live permanently within Best Buy and Future Shop online hubs. The immediate success drove scale, and the program was activated across nine additional channels in North America.
A series of brand partnerships included CTV's eTalk providing exclusive content for TIFF through the BBM platform. On MTV, a BBM group chat widget was replicated online to complement the VMA show, providing a play-by-play of conversations from MTV talent.
Within a year the activity delivered 18 billion+ impressions and 20 million total unique engagements with BlackBerry content.
Oreo Cakesters fuel fun with Xbox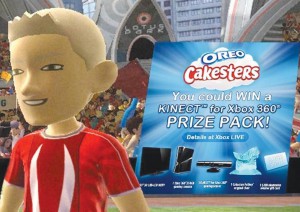 Without new creative, Kraft brand Oreo Cakesters wanted to engage teens with short attention spans and fickle attitudes. Starcom needed to have the brand "hang with them," and research confirmed that 40% of the target played videogames on their TVs and 36% played on Xbox consoles.
Microsoft Xbox would be launching its newest tech in fall 2010 – Kinect for Xbox 360, a revolutionary hands-free platform.
Cakesters partnered with Microsoft and designed an experiential space, "Oreo Cakesters Sports Zone," within the Kinect 360 Experience in Toronto, including live tournaments and product sampling.
Within Xbox Live, a custom branded destination experience brought teens into a Cakesters virtual location. Custom ad units were woven throughout.
Starcom also virtually imbedded nine Cakesters online ads into new sports games. The ads highlighted the contests and drove consumers back to the custom branded entertainment destination.
Research showed 65% of consumers who recalled seeing the campaign took some sort of action. There was 54% increase in purchase intent, 32% went to the store to buy Cakesters and there was an 81% increase in positive brand rating.
Jump to:
Media directors of the year: Terry Horton, VP, media director, Cossette Media and Mark Sherman, founder, owner, executive chairman, Media Experts
Next Media Star: Shahnaz Mawji, supervisor, communications strategy at Carat
MAOY Gold: MediaCom's innovation evolution
MAOY Silver: Media Experts stays ahead of the curve
MAOY Bronze: Mindshare dives into digital bridging