Agency of the Year Recap: big winners and a big crowd
BBDO takes home the Gold in front of a packed house that included agencies, brands and one UFC champion.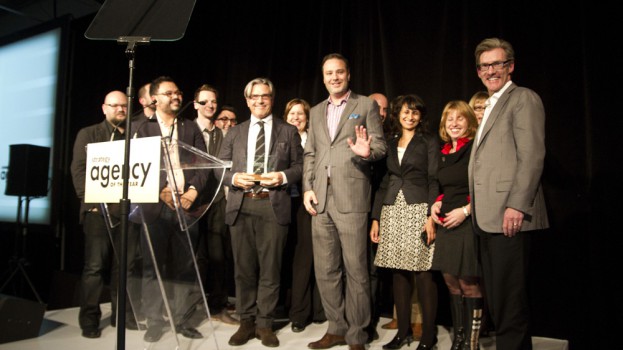 In front of a sold-out crowd at 99 Sudbury on Thursday night, strategy unveiled the creative, digital and media winners of our Agency of the Year Awards.

Making appearances at the awards were all of strategy's Brands of the Year, including representatives from Ikea, Joe Fresh, Videotron, Cadbury, overall winner RBC, and October cover subject UFC champion Georges St-Pierre who flew in for the occasion. They introduced videos created by each shortlisted agency for the show, which varied from the cute (animals were a definite theme) to the bizarre (a Nollywood film by TBWA) to the interactive (Leo Burnett had dancers and CP+B had audience participation). Check out some of the videos in the "Random" section on stimulant.

Toronto-based agency BBDO took top honours as Agency of the Year, marking the first time it has won the Gold. It was a big night for the agency, which also won Silver in strategy's inaugural Digital Agency of the Year competition, while another BBDO agency, Proximity, won the Digital Gold.

Out of 14 agencies shortlisted, the jury, made up of top industry executives, selected BBDO based on the strength of its five best campaigns. The agency certainly had a banner year thanks to innovative and often quirky work such as Swiss Chalet's now-famous Rotisserie Chicken Channel, a channel on Rogers TV that broadcast nothing but rotating chickens 24 hours a day, as well as the "Touch the Rainbow" online videos for Skittles that invited viewers to make their fingers part of the action. Rounding out the campaigns that contributed to the Gold were "The End" for Doritos, "Change" for FedEx and "Together is Amazing" for Shaw Cablesystems.

Taking the Silver this year was last year's Gold winner, DDB, while Taxi picked up the Bronze. Rounding out the top six were Leo Burnett for Honourable Mention and John St. and Rethink taking Finalist positions.

As mentioned, Proximity nabbed the top Digital Agency of the Year spot out of 11 shortlisted, thanks to its envelope-pushing programs such as HP's ePrint Live, which had consumers around the world participate in crowd-sourced sketch comedy by submitting skit ideas to a printer on stage with an improve troupe which then acted out the suggestions. For Gillette's ProGlide challenge, they traveled across North America to document men turning from skeptics into believers, seeding these testimonials into thousands of online ads. And for M&Ms they took advantage of Google Street View to create a first-of-its kind digital treasure hunt that had consumers searching for Red M&Ms all over Toronto.

Silver and Bronze Digital Agency of the Year honours went to BBDO and John St. respectively, while Grip Limited and Taxi tied for Honourable Mention.

Media Agency of the Year awards were also handed out, with top honours going to MediaCom. The agency beat out 15 others and impressed the jury with a series of clever television integrations, such as leveraging scripted CTV programming like Desperate Housewives and Grey's Anatomy to create a series of custom spots featuring the actual set designers for Homesense. They also paired Maytag with CBC's Hockey Night in Canada, and H&M with the MuchMusic Video Awards.

Taking the Silver was Media Experts, while Mindshare won Bronze and Starcom MediaVest Group took home the Honourable Mention.

The Media Agency of the Year jury also selected this year's Media Director of the Year, and this year there was a tie – Terry Horton, VP, media director at Cossette Media, and Mark Sherman, founder, owner and executive chairman of Media Experts, shared the honour.

Also honoured at the event were the B!G Award winners (announced in September), which celebrates agency work beyond advertising. Taxi's House of Innovation for Canadian Tire picked up the Gold, while Sid Lee Architecture's Bota Bota floating spa won Silver and BBDO's "Together is Amazing" food drive for Shaw Cablesystems won Bronze.