Virgin Mobile does whatever it takes
The company creates a campaign that invites people to do outrageous stunts to raise money for homeless youth.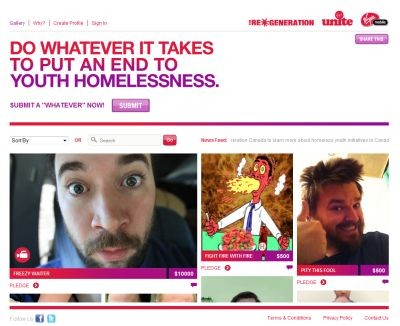 There is a man from Minneapolis pledging to wear a Canadian Tuxedo (a.k.a. denim shirt and pants) for an entire day. An even more adventurous soul from Los Angeles vows to carry around an infant doll in a baby carrier for a full day at work. There's even a gal in Washington who promises to scream at the top of her lungs in a public library. The best part is, it's all for a good cause.

Virgin Mobile Canada, Virgin Mobile USA and Virgin Unite have teamed up for an initiative called "Do Whatever it Takes," where funds are raised for homeless youth through outrageous stunts performed by the courageous men and women who dare to pledge.

For every shocking act comes a set goal of money to be raised by the participant. When their goal is reached, he or she must put the money where their mouth is and conduct the shocking act.

The campaign was created by Minneapolis-based agency Mono and Toronto-based Lollipop and will be using the power of social media to get the awareness ball rolling, says Andrew Bridge, managing director, Virgin Mobile Canada.

For instance, influential and fan-friendly YouTubers and bloggers will be spreading awareness of the campaign through their videos and posts.

In coming weeks, the social media-ites will also submit their own "whatever" to the campaign page. Even Virgin will be taking part, as Bridge tells us that Richard Branson himself will be taking a shot at raising some funds with his own post of an outrageous stunt.

Media Experts was also enlisted to place ads on general-interest websites as well as wild postings in cities across the country, he adds.

"We could choose to do a mass campaign or we could choose to engage through lobbying and a petition," says Bridge. "But, we already have those types of activities going on. We wanted to figure out a way to amp it up."

"We also know that given the media behaviors and the way people are interacting today, with social media being a forum for learning, sharing and socializing, we thought that those channels would be a way to hit our target and get the message out to the folks that can relate to the subject matter and make a difference," he adds.

In the first day that the site was up (Tuesday), there were over 7,000 views and the visitor rate has continued to increase every hour since then, says Bridge. There are currently 34 pledges on the campaign site.

"This is our first North American effort, partnering with Virgin USA and Virgin Unite," he says. "[In the past] we have done things in true Virgin fashion, for example online and viral campaigns, but we have never gone to this extent of integrating fundraising and engagement by the general public to share our cause message."

All proceeds raised during the campaign will be donated to Virgin Mobile's RE*Generation initiative that aims to provide services and resources for homeless and at-risk youth.