Travel Alberta brings the slopes to the elevator
The tourism co has created faux gondolas, aimed at whisking potential travellers in Calgary and California to the Rockies.
Travel Alberta aims to bring some mountain stillness to elevators around Calgary with a new campaign that turns the people movers into gondolas.
The campaign, which promotes the province's tagline "Remember to Breathe" was created by Venture Communication, which also handled media.
The faux-gondola rides are in office towers around Calgary, as well as the Fashion Island Mall in Orange County, California, and entice potential travellers with mountain scenery, encouraging them to consider Alberta as a prime destination when planning their next vacation.
The elevator stunt will run for four and a half months, and began mid-December. It complements the existing OOH, digital, print, radio and television spots, says Paul Hains, CCO at Venture.
While they were limit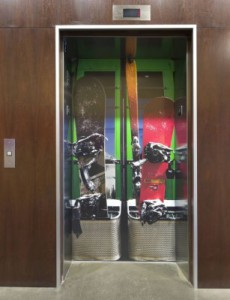 ed to the two cities for budgetary reasons, Hains says they chose Orange County and Calgary because the cities represent a large portion of their target audience. In fact, 24% of all travel into Alberta is from Southern California.

While the elevators are meant to target business people, aged 25 to 45, the entire "Remember to Breathe" campaign is aimed at free-spirited travellers of all ages, Hains says.

The elevators offer Travel Alberta a captive audience and fits with the overall strategy of doing unique stunts for bigger impact. (The kick-off to the campaign was a giant outdoor snowball fight on Nov. 25, with Remembertobreathe.com printed on each plush snowball.)

Hains adds that the elevator offers riders a chance to reflect and think, "Wow this is where I could be."