Canadian Tourism Commission travels to Oz
The first campaign by the CTC since the launch of its "Signature Experiences Collection" platform is being rolled out in Australia.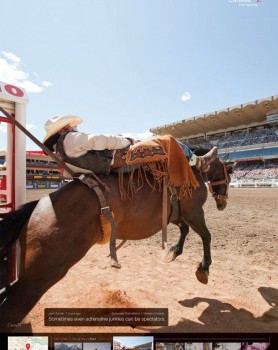 Canada has a wealth of experiences to offer travellers, so much so that the Canadian Tourism Commission (CTC) has launched a $1.7 million campaign in Australia, boasting the likes of Calgary's rodeo cowboys and Vancouver's canopy tree walkway.

The print, online and in-cinema campaign, which was created and executed by DDB Vancouver, marks the first major push from the CTC since its "Signature Experiences Collection" was launched last summer.

In past years the organization was all about promoting Canada's geography, and less about the take-away experiences and memories. The global platform was created to showcase an assortment of tourism businesses that show what the Canada brand is about, and the campaign in Australia will showcase 24 of its current 116 signature members.

Greg Klassen, senior VP marketing strategy and communications, CTC, says that Australia is one of the four core markets (the other three being the UK, France and Germany) that it plans to market heavily in.

He explains that even during struggling economic times in recent years, the number of travellers from the continent increased steadily with 8.3 million entering Canada in 2011 – up 22% from 6.8 million in 2007.

Up until mid-March, there will be ads primarily in print magazines, newspapers and online, and as the C TC has done previously, a series of amateur footage show real-life traveller experiences such as river rafting in the Northwest Territories, witnessing an iceberg "calving" off of Newfoundland & Labrador and walking on the edge of the CN Tower.

The user-generated footage tells of traveller's experiences straight from the horse's mouth, helping the tourism brand to communicate what the country can offer adventurers.

"The videos are really reflective of the kind of experiences that people have," he says. "The emotion that you hear in their voice or the feeling you get when you see the unique Canadian experience, we thought that the user-generated content truly reflected that best."

A good portion of the ad creative will focus on key signature members, such as Tourism British Columbia, Travel Yukon, Travel Alberta and the Calgary Stampede as it prepares for its 100-year anniversary.

The CTC, with a total marketing budget of $40 million, plans to continue rolling out campaigns using the "Signature Experiences Collection" in other markets, both core and emerging, with a few tweaks made because of language and culture, but the creative will remain fairly similar, says Klassen.