OMG Candy launches
The creators of Clodhoppers grab a dragon and jump back into the candy game.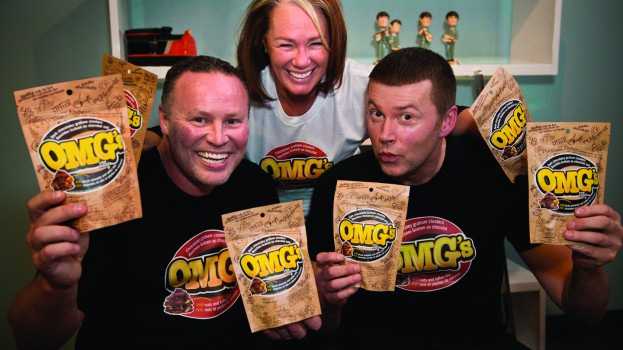 The co-creators of Clodhoppers candy, Chris Emery and Larry Finnson have teamed up to launch OMG Candy, milk or dark chocolate graham clusters mixed with almonds and toffee.
Emery says the candy duo is planning on launching a media buy in the fourth quarter of 2012, but for now is capitalizing on PR gained from the candy co's appearance on CBC's Dragons' Den where it got the seal of approval from Arlene Dickinson.
Working with Venture Communications, OMG Candy will be promoting itself online and in-store to its target audience of women aged 18 to 54, says Emery.
A Facebook contest on the candy co's page asks visitors to submit their own "OMG Moment", with the contributor who receives the most likes each week getting a box of the candy delivered to their doorstep Monday morning. A prize will be awarded every week from Feb. 20 until March 12, says Emery.
The brand is also promoting with in-store signage featuring a photo of the co-founders with the tagline "OMG Done Deal!" in stores where the candy can be found this March, including Loblaws, Zehrs and Shoppers Drug Mart.