Nissan makes hearts race
An auto show installation created by Capital C used a pulse-reading machine to determine which car was right for attendees.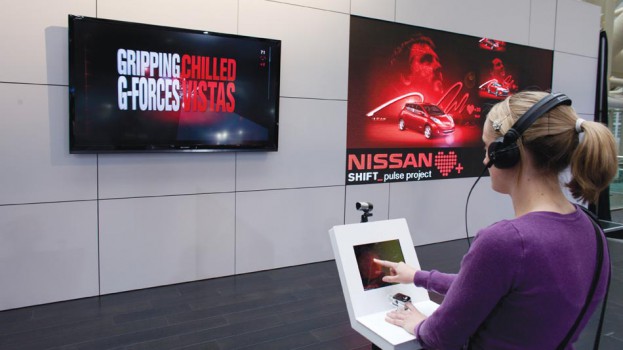 At the Toronto Auto Show last month, Nissan unveiled its heart-thumping installation, created by Capital C, which literally took the pulse of potential drivers.

To live up to its tagline "Innovation for all," and shift the way people think about Nissan, it invited participants to stand in front of an iPad and big screen, put on a pair of headphones, and place their finger on a pulse-reading machine. Then the experience began with a barrage of rapid-fire questions and pulse-quickening music, to see physically what mix of innovation excites them most.

"[We asked] 'Do you prefer to drive on the autobahn or outdoors? Do you prefer a standard vehicle or do you prefer to modify it?'" describes Judy Wheeler, director of marketing, Nissan.

The music changed as participants made choices, and the answers and heart rates were projected on the big screen, visible to the entire audience. At the end, a car was chosen based on the responses.

The experiential tactic led to targeted marketing as Nissan could send participants more information about the specific car chosen for them.

"They're going to be engaged with this," says Wheeler. "And they're going to remember and talk about it, so hopefully next time someone is shopping for a vehicle, Nissan will be on the shopping list."

After participants finished, a mosaic of their face, heart rate, and car best suited to them was splashed across the big screen and emailed to them to be shared or printed.

Wheeler says she can foresee use for the technology at future shows, on the showroom floor, or even once someone is behind the wheel of a Nissan.

This installation follows their Nissan Innovation Challenge, a webisode series that asked Facebook followers what innovation meant to them. The top 200 were asked to submit an ad campaign idea, with five finalists flown to Toronto to pitch their idea to Wheeler, Tony Chapman, CEO at Capital C, and Jay Bertram, president of TBWA\Canada and Latin America. Three finalists' videos will be released in webisodes on Nissan's Facebook page, with the winner named in mid-March, who will see their idea turned into an actual ad campaign by TBWA, and also take home a new car.