How would you spark a trip to the park?
We asked a stable of advertising, marketing and consumer products licensing experts to tell us how they would revive the Parks Canada brand.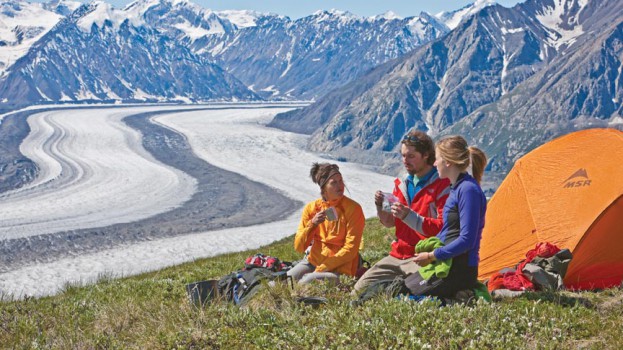 Parks Canada is strategizing. In light of decreasing revenues and fewer visits to parks and historical sites due to a lack of awareness and less leisure time, the federal agency recently teamed up with Toronto-based PR firm Veritas, with a $395,000 two-year contract to determine how it can reignite interest.

A key challenge, says Andrew Campbell, VP, external relations and visitor experience, Parks Canada, is raising awareness in Toronto, Vancouver and Montreal on a limited budget of $1 million a year. Connections with Canadians in those cities haven't been strong historically, but have been improving, especially following Parks Canada's recent centennial and the 125th anniversary of Banff National Park.

Parks Canada wants to sustain that momentum by figuring out how to effectively cross-promote previous efforts, including the National Parks Project, a TV series produced in part to celebrate the centennial. It featured 13 musicians taking trips to national parks across Canada, collaborating with filmmakers on short films and soundtracks capturing their collective impressions of the landscape. The transmedia effort included an online hub where the media pertaining to each trip interconnected through a "virtual park," and included content like photographs, artist bios, park info and bonus video content.

Other areas of focus for Veritas are investigating better use of social media and identifying new media opportunities, including possible advertising in high-traffic areas like Toronto's Yonge-Dundas Square.

"[We want to know if there are] opportunities that we don't know about that we can use to reach a broad swath of the Canadian population and have a significant impact for the best value we can get," says Campbell.

Parks Canada has also been investigating new moneymaking strategies. In November, it announced it would launch a beaver-logoed merchandise line, and in February it signed a deal with Roots and branded merchandising company Cotton Candy to handle the program. The line will be sold at parks and online by spring 2012, and in Roots stores starting this year, with full rollout by 2013. Parks Canada has also introduced new culinary programs, like a wine festival at Ontario's Fort Malden, and has formed a licensing agreement with National Geographic to produce guidebooks.

We asked a stable of advertising, marketing and consumer products licensing experts to tell us how they would go about reviving the Parks Canada brand.

Sasha Grujicic
SVP group strategy, Aegis Media
While the National Parks Project was beautifully representative of Parks Canada, the expression itself was a symptom of the problem. It's stuck reliving its past and not creating its future.
I would take the themes of film and music and turn those into event-based partnerships with the likes of Live Nation, creating unique experiences that were digitally connected (social + Livestream).
I would look to other partnerships in newer artistic expression areas like storytelling events, intellectual conferences and contemporary fine art programs, increasing the breadth of the potential visitors.
And I would source revenue from event ticketing, sponsorship, visitation (from events and conferences) and revenue sharing.
Finally, I would encourage each event to leave behind a sustainable relic for future visitors to engage with, [whether] a geo-cached video file or a physical structure.

Sharon MacLeod
Brand building director, Unilever Canada
Why don't we spend more time in Canada's parks? It's because Parks Canada is happy being a secret. Fabulous yurts (fancy tents) in great places don't matter if I don't know about them. Want a robust visitor business? Create robust partnerships with adventure companies and a luxury hotelier (Four Seasons comes to mind) who can create unforgettable experiences worth the effort to get there.
I do think the parks are missing the big picture. Hits on their website and this summer's traffic are small. Luxury eco-tourism is the long-term solve. Parks Canada needs to open itself up to partner with other companies who can create a brilliant experience.
Want more visitors? Call Tony Pigott at JWT Ethos. Tony knows how to use unconventional models that worked for Sickkids and U of T. It generates revenue and covers the cost, meaning they deliver positive return on investment. Imagine that!

Emily Bain
Partner, strategic planning director, John St.
Canada is a hot property right now and Parks Canada should be leading the pack.
One idea is to create a questionnaire on the website that ranks you and your family's true Canadian camping skills and then customizes experiences. Complete packages could be offered that could include gear.
Parks Canada also needs to draw some excitement. Bring the national parks to urban congested areas and recreate the park experience – sounds, air, visuals, with a downloadable app that can provide you with park information.
It also needs to be there when Canadians are searching for vacations online, connecting via keyword searches, partnerships and website links. Parks Canada could surprise people by popping up in usual searches, such as "all-inclusive vacations." They could even find a way to have campsites come up as an option when vacationers search for rooms.

Steve Fowler
President, The Licensing Shop
On the fun side, I would want to create a kid-friendly character who could be the Parks Canada official spokes-animal. Beyond the obvious merchandising benefits with kids, a promotional campaign could reward families who have their photo taken at certain destination parks with that character in tow. You could consider some kind of collectible souvenir, such as a coin or stamp, which can only be purchased on-site.
Another idea could be inviting local and regional artists to create new proprietary Parks Canada creative assets. Inviting emerging artists to participate in an annual festival of art would create another interesting merchandising opportunity, along with a travelling Parks Canada art exhibition.
Finally, Parks Canada wardens, historians and archaeologists could work with a retailer/manufacturers to inspire a seal of approval on branded tents, sleeping bags and outerwear.

Robert Miller
President, Studio Licensing
The target demo requires broadening, positioning Parks Canada as a destination for every walk of life and any occasion.
A national campaign timed three to four months prior to the season focusing on Parks Canada being for everyone and a free downloadable app to plan the travel details are essential.
[The investment could be] spent on multi-tiered retail marketing to include various forms of retailer-specific media: in-store, advertising space, QR code tagging of selected merchandise, augmented reality merchandising, etc. Beyond a national retail partnership for apparel and accessories, an additional retail partnership for camping gear seems obvious.
Additionally, a Parks Canada e-commerce site featuring all PC merchandise could include discounts for entry with a merchandise purchase or vice versa.

Ian Barr
Vice president, Rocket XL
Through social and mobile, we'd assess how Parks Canada could connect the physical and digital worlds via user engagement with each of the four screens: TV, computer, smartphone and tablet.
The end goal would be for Parks Canada to creatively bring the best experiences to connected Canadians where and when they're ready to engage. How fun would it be to teach urbanites about fly fishing by using their smartphone as a fishing rod that connects to an interactive board displaying one of our famous fishing spots? Or, have an Elk Island National Park guide give you a virtual glimpse at what it's like to see bison in their natural habitat, all streamed through various digital media.
Digital will never replace the thrill of being there in person, but it can be the lure that reels them in.