Oasis tricks out its juice boxes
The Quebec-based A. Lassonde brand is using augmented reality to turn its Tetra Pak cartons into controllers for an online game.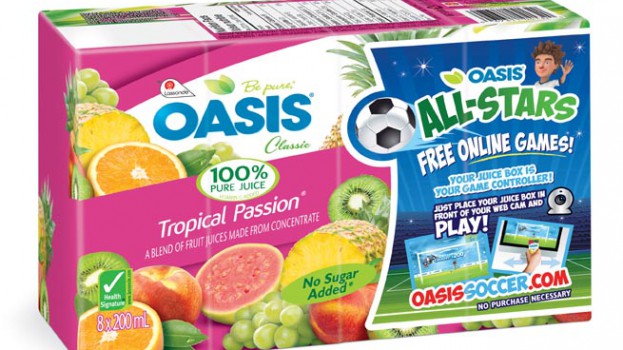 Quebec-based A. Lassonde's Oasis brand is taking its juice box game to the next level, literally. It's turned a selection of its Tetra Pak cartons into game controllers for interactive online learning and play.

Through the magic of augmented reality, kids can use cartons of Oasis Classic, Oasis FruitZii and Oasis Fruits to play "Oasis All-Stars," an animated online soccer game that the brand launched this month.
An integrated marketing campaign developed by Draftfcb, including POS, web media and a microsite (Oasissoccer.com), has been promoting the game.

The juice box connects with the game via webcam thanks to AR tech by Augmented CPG that enables the camera to recognize the juice carton controller. Players can select from one of three game modes and act as a goalkeeper, deftly wielding the juice box to block shots from Nico (the brand-created soccer star) who interacts with the player throughout the game, reminding them to stay active and recycle juice cartons.

"While we have always looked for new ways to create engagement at store level, augmented reality enabled us to create interaction with the product itself," says Luc Prevost, VP marketing,
A. Lassonde.