Amour wants viewers to go all the way
A campaign by Dare Vancouver offers to fulfill people's typically doomed fantasies.
In the real world, when a cop pulls you over for speeding, gratuitous roadside sex is not an alternative to a ticket. Community service is. People shouldn't be too discouraged, though, because "Fantasies happen, but only on Amour Adult TV."
The pay-per-view channel, available through Manitoba-based MTS TV's Ultimate TV Service, is back with a new trio of TV ads that follow up on an effort developed by Dare in Vancouver last year aiming to encourage subscriptions to the Ultimate Service. It included a humorous string of spots featuring talentless-but-attractive actresses and the tagline "You won't watch for the acting."
This latest iteration is more focused on encouraging existing MTS Ultimate customers to purchase Amour movies, setting it up as a place they can see fantasies stemming from everyday interactions play out.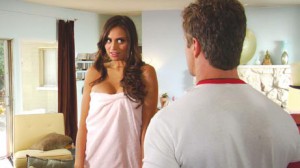 On top of the cop/ticket scenario, one ad revolves around a dude who shows up to clean a dirty pool frequented by two bikini babes, but the pool ends up being the only thing he works on. The third features a pizza boy who makes a delivery to a woman clad only in a towel who has no cash to pay with. She pays with credit card. Humour is the way to go, says Rob Sweetman, ECD, Dare Vancouver, as it's the best way to defuse a sensitive topic like adult film.

"The biggest challenge was finding the right tone," Sweetman says. "Adult entertainment can be offensive to some, so we wanted to strike the right balance. We tried to intrigue interested viewers without upsetting others."

The ads are currently airing during late-night programming on MTS.