Storytelling in an age of fools
JWT's Tony Pigott reflects on The Skoll World Forum on Social Entrepreneurship, and the role advertising can play in changing the world.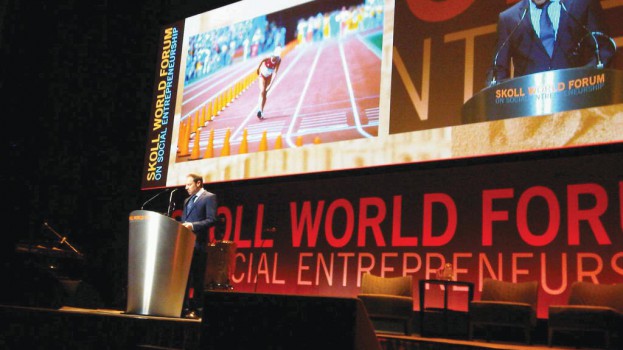 By Tony Pigott

"I have a suggestion for a new name for the developing world. Let's call it the world."
–Hans Rosling, Karolinska Institutet professor and Gapminder Foundation founder

The Skoll World Forum on Social Entrepreneurship takes over the University of Oxford every year for three days. It is the planet's supermarket of world-changing ideas and unstoppable entrepreneurs. Think Davos meets TED meets our future.

Where else can you find the most daring of social entrepreneurs from the slums of Manila or the deep rainforests of Peru together with leaders of Greenpeace and WWF, mixing it up with the likes of philanthropist/business magnate George Soros and brands like Unilever, Citibank and McDonald's? And all of them confronted with truth serum delivered by the shamans of demography, climate change, neuroscience, technology and the power of markets? If the world is going to find a way out, this is its R&D lab.

And to find that way out, the world needs fools – audacious people who pursue an idea in the face of pervasive resistance and impossible odds. One previous winner of The Skoll Award led the charge in saving over 25 million hectares of Brazilian rainforest, while 2012 speaker Eve Ensler, the creator of The Vagina Monologues, established V-Day, a worldwide movement to stop violence against women.

But these brave and foolish souls are not just in NGOs or academia. They are risk-takers in some of the largest companies on earth. Gavin Neath, the head of sustainability for Unilever, for example, is mobilizing the industry, not just Unilever, to bring deforestation to an end. Meanwhile, Mike Barry of Marks & Spencer believes that 80% of consumers want brands to deliver change, and those who crack the code to serve this demand will rule. They defy the past, the barriers and the drag of existing conventions, and according to Roger Martin, dean of the Rotman School of Business, they must often defy the corporate addiction to research, the shut-off valve to change.

At this conference, audacious, foolish people are not to be indulged, pitied or dismissed. They are the essential heroes of the future, their audacity itself an indispensable ingredient that inspires others to be foolish too.

These fools need support, money, partners, a groundswell following. And for that, all agreed, they must have storytelling. Great storytelling.

This theme was triggered in part by the extraordinary phenomenon of Kony 2012 where, in the course of two short weeks, 100 million people shared a 30-minute story set in Uganda. The director of Sundance showed the opening of the video (created by Digitaria, a JWT agency) to kick off a session about the role and future of storytelling. It is the year's most powerful example – so far – of a story that had the world leaning into the campfire, particularly because it captured the connectedness and common cause we sometimes feel about the overwhelming challenges on Earth.

Great storytelling – a crystal clear idea, a great narrative brilliantly executed – is essential to advance remarkable people and their projects. On a bigger scale, storytelling is also indispensable because people don't change, as the experts will tell you, groups do. And leaders who wish to achieve significant change, whether you're a social entrepreneur or the president of a multinational, need to mobilize large groups toward a common cause; companies, communities, interest groups and ultimately countries.

Where does all this put advertising and marketing? What role are we to play? And how?

In the heyday of Mad Men one of the most famous brand jingles went like this: "They said it couldn't be done, they said nobody could do it. But L and M is low in tar with more taste to it." My God, you would want to think we have changed since those days.

The good news is we have always been storytellers and now the social web has broken us loose and changed the nature of storytelling and participation in a way that makes our talents and powers indispensable to the future.

Advertisers and agencies are capable of playing a profound role in an era where transformation is essential. The question is: are we foolish enough to defy the odds and make things happen? And foolish enough in the right way?

Tony Pigott is CEO of JWT Canada and director of JWT Ethos.