Next Media Stars: Bailey Wilson recruits parents to share the joy with Johnson's
UM's manager of broadcast investments used social media to connect with families, generating content that will be integrated into a cross-platform campaign.
Every mom thinks her baby is the cutest in the world, and now Johnson's is giving parents the chance to share that pride and joy with others, thanks to a campaign put together by UM manager, broadcast investments, Bailey Wilson.
The campaign asked parents to submit everyday moments with their baby through a tab on the brand's Facebook page. The selected content and families will be integrated into a cross-platform campaign on Rogers Media properties including Today's Parent and on Citytv during its weekly Wednesday family episode of Cityline, says Wilson.
"The idea for the campaign came from the insight of reaching mothers using everyday joy and speaking with them in moments that aren't always addressed in ads," she says. "Simple things like dressing your baby, little moments between a mom and baby that are a real source of joy.
"We are utilizing [Rogers] properties to connect with parents and share ideas on how to capture and celebrate joyful moments with family and friends while also giving consumers access to information from other parents with similar experiences."
Selected parents will appear in content on Cityline during the show with host Tracy Moore, who is a mom herself, which made it a great fit for the brand, says Wilson. Content will also appear in issues of Today's Parent, as well as on a special "Joy of Parenting" section on the magazine's website.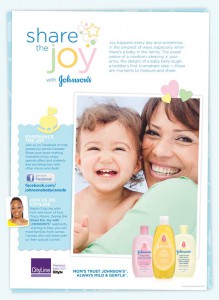 The new Johnson's campaign is innovative because it creates a dialogue with parents, leveraging social media to engage with them and celebrate moments of joy as a family, with content housed across one media company's TV, print and digital platforms.

The program stemmed from a project done in 2008 with Shaw Media's The Mom Show, says Wilson, but is different due to the level of content integration with the current execution.

Wilson joined UM three years ago after working at Cossette as a media supervisor, saying the role's content integration opportunities, such as the Johnson's campaign, were a big part of why she made the move.

In addition to being the lead on various multi-platform campaigns with Johnson & Johnson, Wilson works on the agency's Free the Children committee (the organization is a client).

Up next for Wilson is work leading up to this summer's London 2012 Olympic Games.

Campaign details are being kept under wraps for now, but she says it will be very exciting given the high interest brands have in the Olympics following Vancouver 2010.

Jump to:
Next Media Stars intro
Laura Ritchie brings Evian to life in Toronto and Montreal
Devyn Perry makes TD front page news on Family Day