Community-led and nimble: the new corporate social relationship
Strategy's executive editor Mary Maddever looks at unrealistic expectations and limitless opportunities in the new CSR landscape.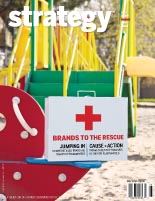 On the Back Page this issue, BBR's Gaëtan Namouric writes that people's self-touting mode on social media is curiously akin to brand building. The constant posts positioning us as worthy of liking, following and friending – what we've done, where we've been (plus a strange and widespread fascination with what we eat) – are not dissimilar from the role of brands seeking fans on social media. He goes on to note that we hold brands' activities up to a much higher level of scrutiny, which he suggests is unrealistic.
That's why "cause" territory gets intense. If someone gets in a tizzy over a brand's actions (or inaction) the repercussions can be far-reaching, and when you factor in moral outrage (rather than just customer service griping), it's a force that must be reckoned with. Fast. Several recent social media blow-ups reinforce how mercurial and potent social media – in tandem with people's passion around causes – can be, both for good and for wreaking havoc on reputations.
The demand for immediate response and the opportunity for immediate action are both accelerating the speed at which CSR now operates. The caution with which corporations have historically approached their CSR efforts seems to fly in the face of our real-time-response-required world, where speed equals authenticity.
So why do we think brands should be infallible rather than just accept the inevitable, and be ready to say "we got it wrong this time"? After all, as per Facebook, brands are only human.
As to whose humanity is standing out in the CSR field here, once again strategy sought out the best programs in Canada for our Cause + Action awards. Extensive sustainability investments remain a big thrust, and the pendulum continues to swing from tightly-reined-in strategic cause support to a more grassroots-balanced scenario.
In addition to the national programs funded by this year's Cause + Action winners, we see big brands behaving a lot like community leaders or local businesses when it comes to where and how they show support. These community-led programs recruit ambassadors both internally and externally, so they're well amplified in the social media space.
We're also seeing a more flexible first-responder MO. National players like Canadian Tire and Telus are leaping in to solve local crises, and to support community-building in a nimbler way.
And from agencies, we're seeing a more entrepreneurial attitude when it comes to pro bono work. Cundari's app that helps SickKids overcome a pain-reporting problem typifies this solutions-rather-than-ads ownership approach. In the Forum op-eds, Aldo Cundari and JWT's Tony Pigott (who spearheaded BrandAid, another solutions-based initiative) both outline the opportunity agencies have to deploy their creativity and tech expertise and to leverage their extensive talent networks to make a difference in a new proactive way – with or without clients.
Read on, be inspired and make change.
Cheers, mm
Mary Maddever, exec editor, strategy, Media in Canada and stimulant