Spotted! Rimmel puts Canadians behind bars
The Coty brand recreated its on-air, online and print advertising with real-life street-level stunts in Toronto and Montreal.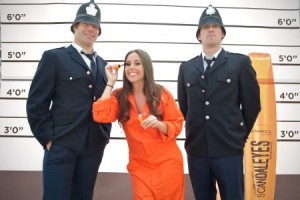 In a rather peculiar sort of way, Rimmel has lived up to its tagline and given Canada a taste of the London look.
Yesterday at Yonge-Dundas Square in Toronto, the Coty brand staged a real-life execution of its latest TV commercial for ScandalEyes mascara. A second and last stunt will take place today in Montreal.
The creative for the TV, print and web campaign was handled by New York-based agency Laird+Partners. The TV spot shows model Georgia May Jagger running from authorities to escape the crime of "having outrageously voluminous lashes."
To bring the idea of the scandalous beauty crime to life, Rimmel worked with Montreal-based experiential agency, JSEM, to set up a life-size jail with giant mascara molds that represent pillars of the cell. Four female ambassadors with lengthy lashes were locked up, while four male ambassadors dressed in London Bobby uniforms accused the women of having false lashes. Pedestrians who approached the scene were invited to visit Rimmel's Facebook page where they could upload their own behind-bars photo.
Jerome Dujoux, senior marketing director, Coty Canada says that the live event is a little avant-garde and that most markets probably wouldn't go for it. The brand chose Canada to be the only market to see the advertising come to life because he says that Canucks would be more receptive and open to the stunt.
To further promote the cosmetics product, Rimmel will also have ads airing during movies at Cineplex theatres for the month of June, he says.