Spotted! BlackBerry gets friendly with benefits
The streets of Toronto's business district have recently been inundated with brand ambassadors handing out gifts.
BlackBerry recently took to the streets to befriend and bequeath pedestrians with benefits.
For the past four business days, the RIM brand has had outdoor signage plastered on floors and traffic light posts in Toronto directing city-dwellers to five different map locations in the downtown core with copy that reads, "Visit us for BlackBerry benefits".
Gifts thanking consumers for their loyalty to the brand included gift certificates for lunch (at Earls restaurant in Toronto) and coffee (from Starbucks, Tim Horton's and Second Cup) as well as on-the-spot device cleaning and battery swaps. There is also the chance to win tickets to a Blue Jays game (BlackBerry is a team sponsor), as well as a promotional offer from Future Shop.
Through the gifting, the brand has been demonstrating applications offered on the BlackBerry Bold 990 and its PlayBook, says Patti McKague, senior manager, consumer public relations, RIM, further noting that the campaigns purpose is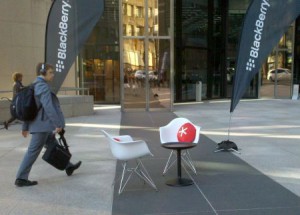 to promote the products to people who work in the downtown business district.
The marketing initiative has been executed in other Canadian markets, such as Montreal, and the Toronto stunt will end on Friday, adds McKague.
Spotted by: Katie Bailey, former editor, Playback and Media in Canada