Next Media Stars: Charland remixes online to launch a new Loto-Quebec game
The strategic digital planner at Carat makes interesting use of online video to promote a game that's played in-store.
Making the act of watching online videos a little more like gambling was the objective behind the launch campaign for Loto-Quebec's Sprinto, spearheaded by Louis-Philippe Charland, strategic digital planner, Carat.
Sprinto is an in-store lottery game which aims to capture the excitement of live horse races on variety store video screens. When customers buy a ticket, they are assigned one of five horses on the screen, and if their horse wins, the player can win between $2 and $15,000 in instant cash. The new game's sweet spot target is men aged 25 to 49, says Charland.
To launch the game in a unique way, Charland wanted to recreate the tension and excitement of the in-store experience online by purchasing pre-roll ads and turning the time tracker on the video into a horse racing to the finish line (rather than a dot moving along the bottom of the screen).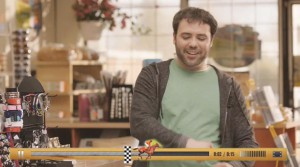 The pre-roll video ads, running on French sites including Tou.tv and Vtele.ca, show a person watching the horse with anticipation, and
has two possible outcomes – victory or consolation.
"Online video consumption is rapidly growing in Canada and users are paying attention when viewing the content," Charland says. "I decided to capitalize on this highly qualified captive environment to recreate the excitement happening when people are attending horse races."
"I got the idea from a similar campaign we did last year with Reebok where we changed the timeline for that brand, which was the first in the market at that time," he says. "This was a unique way to use a feature that already exists in the video player but is rarely used by advertisers. This integration combined with a pre-roll placement allowed us to bring our idea to life. It gives us a chance to speak one-on-one with the user."
The online campaign featured creative from Lg2, and launched in May, says Charland, who has been with Carat for the past two years. He joined the company from Mediaedge Montreal, which was his first job after graduating from the Université de Montréal, where he studied marketing.
Charland also works on Astral Radio, Sobeys and Subway.